( Disclaimer : We hope you love the products we recommend! We just want to inform you in advance that, if you buy anything that we recommend here, then we may get some share or compensation from the links on this page.)
Turkish coffee is one of the traditional and oldest methods of coffee brewing. It is not only a beverage but also part of the custom. Turkish coffee is popular for its unique way of preparation and there is nothing to beat the taste of this traditional Turkish coffee. If you want to fully enjoy the real flavour and taste of Turkish coffee, you must get hold of the best Turkish coffee grinder.
Choosing the Best Turkish coffee grinder for your Turkish coffee is a quiet difficult task. So today I have come up with the 5 best Turkish coffee grinders with comprehensive buying guide that will help you to choose right grinder for your favourite Turkish coffee.
A Brief History Of Turkish Coffee Grinder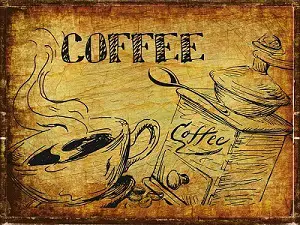 The Turkish coffee was firstly introduced in Turkey by 15th century. This was introduced by the Turkish governor of Yemen named Ozdemir Pasha. He explored new beverage in his region which was the drink from coffee beans. He made a decision to introduce to the Sultan, Suleiman the Magnificent. The staff of Sultan came to a decision to try this new method of preparing a beverage. They Ground the coffee beans fine using a mortar and brewed it in a special pot called as Ibrik. The Sultan impressed by this new drink and it stroked in the whole palace. After that, it became an essential part of its Turkish culture.
What Is The Best Turkish Coffee Grinder?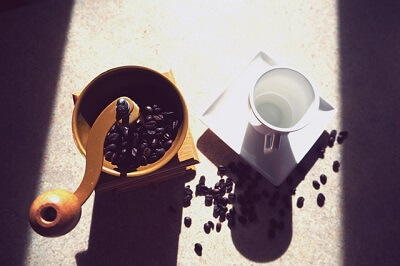 The Turkish coffee requires an ultra fine grind to make a perfect cup of coffee. The best Turkish coffee grinder is which can grind the beans ultra fine in right consistency. The grinder should be capable of converting whole coffee beans into flour like powder consistency. The coffee grind size should be finer than espresso. So you will need to set the grinder few setting below espresso grind setting.
Best Turkish Coffee Grinder- Manual vs. Electric
There are various types of coffee grinders i.e. manual to electric ones available in the market out there to grind the coffee beans. If you want to enjoy real Turkish cup of joe, the manual Turkish grinder works best. They are really competent to grind coffee to ultra fine consistently. It is also a simple and authentic way of coffee brewing. But they required extra time and effort for grinding the coffee beans.
You can also grind the Turkish coffee in electric coffee grinder with simply pressing a button. But they unable to provide ultra fine grind because of inadequate power. The Turkish coffee grinders are huge and engineered for large batches. They are suitable for commercial usage, not for the kitchen countertop.
If you are a home coffee brewer, I recommend you to invest in good manual Turkish coffee grinder rather than electric ones.
Click here for Top 5 Best coffee Grinder For French Press Review 2017.
How To Use And Adjust Turkish Coffee Grinder?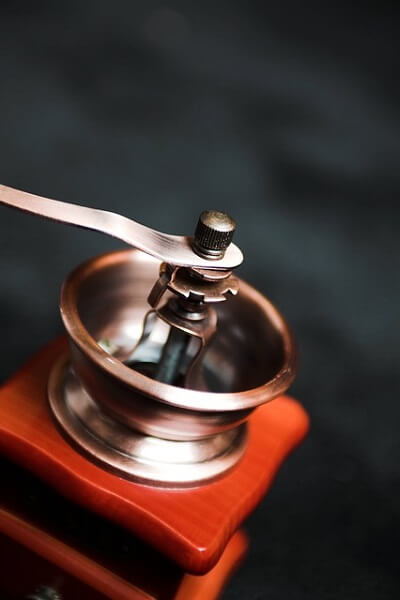 The traditional Turkish grinder is manual one which works best for Turkish grind. The burrs are especially designed to grind coffee beans into a fine powder which is ideal for Turkish coffee.
Turkish coffee grinder is cylindrical device comes with three main constituents. It comes with the metal rod which is connected to the main shaft. It has grinding burrs at an upper side and small collecting bin at lower to store the ground coffee. You can collect freshly ground coffee by opening the lower part of grinder.
With the help of Turkish coffee grinder, you can grind coffee beans ultrafine like powder. But you can also adjust the fineness of coffee. For making Turkish coffee powder, you have to remove the lid and fill the coffee beans in it. Put the lid back and join the crank. It has small screw positioned at the bottom of the upper part. You can adjust the coffee grind size by loosening or tightening the screw. More loosen the screw, coarser ground and more tighten the screw finer ground you can get. You can adjust the grinder while it is using for grinding other spices too. Do not use a grinder when it is empty, as it could damage the burrs.
How To Clean Turkish Coffee Grinder?
You should clean your Turkish coffee grinder to get relieved from oil producing from coffee beans. Otherwise, oil and coffee residue adversely affect the taste and flavour of coffee.
Traditional Turkish coffee mills are mostly made up of brass, copper or with specific Middle East ornaments. So it is advisable that not directly rinse under water. Wipe up only the external parts with damp cloth.  You can also use cleaning material commercially available to clean the outer parts of a grinder. The internal parts are also clean just by using it again. You have to just add rice or coffee beans in grinder and grind them. Remove residue if any within grinding process. You can also use a small brush to clean it thoroughly. Do not use abrasive pads to clean the grinder.
How To Make A Perfect Cup Of Turkish Coffee?
Following is the video which shows how to make a perfect Turkish Joe.
Where To Buy Turkish Coffee Grinder?
You can find different brands of Turkish coffee grinder at international grocery stores in metropolitan cities. You can also buy it online which is the easiest way of buying. There are numerous e-commerce websites such as Amazon, eBay which offers these grinders at discounted price. They provide a great discount, wide variety with great offers. It is easy to find and compare the prices of the product online. So take benefit of online offers and grab it at pocket-friendly prices.
Top 5 Best Turkish Coffee Grinder 2017
1. Zassenhaus Espresso And Mocca Grinder Havana
Zassenhaus is one of the best old world companies, founded in 1865 have been producing top quality coffee mills. This Germany sourced company has made this Zassenhaus Espresso And Mocca Grinder Havana one the best Turkish coffee grinder with authentic beautiful design and it is truly perfect for Turkish coffee experience. It is competent to grind coffee beans from coarse to powder fine grind with consistency. This conical burr grinder made from high-quality stainless steel and polished brass.
Pros
1. It is the highly durable grinder as it offers 25 years guarantee on grinding mechanism.
2. It produces consistent uniform grind and the grind setting is easily adjustable from coarse to an ultra fine setting.
3. It comes with compact design and there is no electricity required to operate. So it is a perfect travel companion for you.
4. It is easy to use and clean.
Cons
1. The price of this coffee grinder is quiet high compared to other manual grinders. But looking at its quality, sturdiness, and durability, you will never regret for extra bucks you pay for this higher end model.
Click Here For Current Reviews and Price of Zassenhaus Espresso And Mocca Grinder Havana
2. Pepper Mill Imports Atlas Pepper Mill, Brass, 8
The paper Mill Imports Atlas Pepper Mill was initially designed for Greek soldiers to grind coffee in the field. Papper mills grab hold of exacting the standards required for the army till now. Due to this, the grinder is durable and top-notch quality with simple design. This Turkish coffee grinder has a  setting from coarse to fine like powder which is perfect for Turkish coffee.  It comes with the flanged base for more stability while grinding. This grinder offers the perfect balance between price and quality.
Pros
1. This grinder comes with the attractive, durable and sturdy design.
2. It comes with small collection cup to collect the ground coffee.
3. Even it is competent to grind coffee, can be used to grind other spices also.
Cons
1. It requires bit extra efforts for grinding operation.
2.The grinder holds a small amount of coffee for grinding at once.
Click Here For Current Reviews and Price of Pepper Mill Imports Atlas Pepper Mill
3. Zassenhaus Santiago Coffee Mill Grinder
Zassenhaus Santiago Coffee Mill Grinder is another quality grinder by Zassenhaus who is the leading brand in manufacturing manual coffee grinders. This conical burr grinder has fine German craftsmanship. Now, you can grind your coffee with this manual coffee grinder without much elbow grease. It is constructed of high grade hardened carbon steel which ensure durability. This operates quietly while grinding.  It comes with adjustment knob to adjust grind size from coarse to fine.
Pros
1.It is compact and lightweight grinder.
2. It grinds coffee fast and easy to operate too.
3.The coffee grinder comes with 25 years guaranty.
Cons
1.It is difficult to operate on countertop.
Click Here For Current Reviews and Price of Zassenhaus Santiago Coffee Mill Grinder
4. Khaw-Fee HG1B Hand Coffee Grinder
This ceramic conical burr grinder assures the consistent grind. Khaw-Fee HG1B Hand Coffee Grinder has adjustable grind selector, so you can enjoy different types of brew like a french press, espresso, pour over or Turkish. Now you can grind coffee without disturbing others as it makes considerably low noise while grinding coffee and can enjoy a perfect cup of coffee with your fresh ground coffee at any time. You can also grind pepper and other spices with this grinder.
Pros
1. It comes with the glass jar with the top so that you can store ground coffee in an airtight glass jar.
2. It is super easy to clean as it comes apart very easily and it comes with silicon base which is removable.
3. It comes with handy rubber top which avoids beans spilling out of the hopper while grinding.
4. It produces consistently uniform grind every time as it engineered with high quality ceramic conical burrs.
Cons
1. The silicon base at the bottom the glass jar is little slippery as it moves around a little bit while grinding operation.
2. It comes with the small grinding area. It takes about 5 minutes to grind coffee beans for 2+ cups of coffee at one go. If you want to grind for more cups of coffee, it is not a suitable grinder.
Click Here For Current Reviews and Price of Khaw-Fee HG1B Hand Coffee Grinder
Watch out the following video review for closure look of features and use of this Khaw Fee grinder.
5. Foruchoice Vintage Style Coffee Grinder
This Foruchoice vintage style coffee grinder memorize you back mid 20s style high-class coffee grinding mechanism. The upper part of grinder made up of cast iron and plastic. This one comes with perfect vintage style wooden design with a little wooden drawer which serves as the collector of ground coffee. This is a competent grinder for your favourite brews whether it is pour over, French press, Turkish or espresso.
Pros
1. It comes with adjustable grind settings for French press, Espresso, Turkish or pour over coffee brew.
2. The vintage style classic design is perfect an art piece and looks decorative in your kitchen.
3. Easy to use and clean also.
Cons
1. It takes the considerable time to grind coffee. So if you need a large amount of ground coffee, this grinder is not for you.
2. It is a small grinder and comes with a wooden drawer for collecting ground coffee is also too small.
3. It is little hard to find right adjustment for grind setting.
Click Here For Current Reviews and Price of Foruchoice Vintage Style Coffee Grinder
Wrap up
So, this is the list of best Turkish grinder with complete buying guide. Hopefully, it makes your buying decision easy which is suitable to your lifestyle. If you are Turkish coffee aficionado, grab the best one grinder and enjoy the authentic experience of Turkish coffee.