( Disclaimer: As an Amazon Associate, we earn commissions from qualifying purchases at NO additional cost to the customer.)                                          
I have been using my wok on the gas stove top for many years. I have no trouble to use wok on gas cooktop as it works perfectly fine on the gas cooktop.
But now I have to switch to an electric stove because of the remodeling of my kitchen. As I am first time user for wok on an electric stove, I concern whether electric cooking surfaces are compatible or not for wok? can I use wok on an electric stove?
After spending a lot of time researching about it, I got to know that –Yes, you can use wok on an electric stove but with some adjustments. Flat bottom woks are more convenient to use with electric stove than rounded bottomed woks.
What is Wok?
The wok is the versatile cookware which is alternative to a traditional frying pan. It is used for steaming, stir-frying, deep frying, boiling, braising, smoking and, searing and many more cooking techniques.
Woks are made of a variety of materials like carbon steel, non-stick, cast iron and aluminum. Carbon steel and cast iron are the most widely used a material for making woks.
Woks come with one of the two types of handles either loop or stick type. They are convenient to cook without burning the hands while cooking the food.
Cooking with wok is actually healthier than traditional frying pan because of high heat retention. The shape of wok allows for maximizing and even distribution of heat. Another important factor that it requires a lesser amount of oil than a traditional frying pan.
How to Use Wok on Electric Stove? / How to Use a Wok Ring on an Electric Stove?
If you have a choice to buy wok for your electric stovetop, then I recommend to buy a flat bottom wok. If you already have round-bottomed wok in your kitchen arsenal, don't get disappointed.
Because it is possible to use a round bottomed wok on an electric stove. You just need to make some necessary adjustments.
You need a wok ring which makes your round-bottomed wok compatible with electric stove. It is metal ring works as a stand for wok. This helps to concentrate the heat to the wok bottom. Flat bottomed wok doesn't require a ring to use with the electric stove.
You need to keep the ring over the electric stove. Keep in mind, wider part of the ring should be facing up. It allows for stability for a rounded bottom.
The ring should not be so small or large as it should cover the stove top closely. It should allow keeping wok bottom close to the heat. The distance between wok bottom and burner should be ½ to 1 inch high.
You need to preheat the wok for at least 10 minutes before adding food ingredients.  Add oil as per mentioned in the recipe. Whirl it inside the wok and coat the wok with oil. When oil gets hot, add food ingredients according to the recipe and stir fry.
Are you looking for best meat slicer for bacon. Then click here.
How to Season Wok on Electric Stove?
If your wok is brand new, then you need to season it. Because it comes with factory oil coating which is done in the manufacturing process to prevent wok from rusting. So, I recommend you to season your wok before using it for first time cooking.
Carbon steel wok is the most versatile and widely used. You can do your culinary recipes efficiently only when your wok is seasoned properly.
You can season your carbon steel wok on an electric stove by following way.
Things you will need:
Stainless steel scrubber
Liquid soap
Oven mitts
High smoking point oil
Vegetables- ginger, scallion
Sponge
Spatula
Process:
1.Scrub the wok from inside and outside using stainless steel scrubber and liquid soap thoroughly. So that you will able to release the chemical coating and chemical smell on a wok. Only this time you can use soap. Never use soap again as it will rust your wok.
2.Turn on your electric stove. Place the wok on an electric stove. Let it dry with high heat on a stove.
3.You will see some black spot at the bottom of the wok as the wok gets hot. Your wok should be heated, as much as, the whole wok turning to gun metal grey color evenly from inside. When it changes its color, it means the pores of the metal opening up. So that your oil is going into the pores and it will burn to form a nonstick coating.
4.If your wok doesn't have handles or ears, use oven mitts to turn the wok on its side. Let the wok turn grey at all sides inside. Be sure to cover whole sides inside. Be careful to handle a wok now because your wok and coil of the stove are getting very hot. Don't burn yourself.
5.After tempering wok, allow it to cool. Wash and dry it again.
6.Coat the thin coating inside of wok with high smoking point oil.
7.Preheat the pan on the stove at medium heat and drop 2 tablespoons high smoking point oil like grape seed, peanut etc. Spread the oil with moving the wok around.
8.Add chopped ginger and scallion. Stir fry it for 15 to 20 minutes on medium heat. Wash the wok edges with this mixture by rubbing it with a spatula from inside. If your mixture gets dry add oil again. So, that pores of metal will open up and covered with oil. Now, the metallic flavor is removed and it turns into the natural and nonstick coating. Your wok will not rust in the future anymore.
9.Remove the mixture from wok and take out the wok from stove using oven mitts. Let it cool.
10.Wash the wok with a sponge which is used to wash nonstick cookware.
We have created list of best meat cleaver for cutting bone. Then check out here.
How to Choose Best Wok for an Electric Stove?
Following considerations, you should keep in mind before choosing the best wok for an electric stove.
Construction Material
Woks come in a variety of material. Most of the woks made of carbon steel and cast iron. Carbon steel works best for using it with electric stove. Carbon steel transfers the heat of electric stove faster than cast iron.
Size matters
Woks come in various sizes. The size of wok depends upon your preference, type of stove, how many times you will be using wok etc. Woks generally come in 10'' to 14'' size. Flat bottomed wok with at least 5" on the bottom is reliable for cooking on an electric stove.
Flat or round bottom
If you are going to use wok on an electric stove, then flat bottomed woks are more favorable than round-bottomed. Flat bottomed wok easily gets contacted with the heating element of an electric stove.
You can use a round bottomed wok on an electric stove. Just using round-bottomed wok with an electric stove will not work properly as the round bottom doesn't allow for stability. But you need to use ring stand for stability and even distribution of heat to the bottom.
Looking for the best meat grinder for deer. Then click here.
What is the Best Wok for an Electric Stove?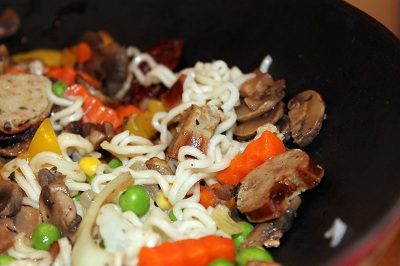 The wok is a versatile cookware which is reliable for every cooking technique. If you are looking for wok just compatible with electric stove, then you may not find a lot of option. But here are 3 best woks that you can use with electric stovetop.
Best Wok for an Electric Stove
Not all woks are suitable for an electric stove. So here are the woks which are best to use with the electric stove.
Calphalon Contemporary Nonstick 12-Inch Flat-Bottom Wok
Calphalon contemporary flat bottom wok constructed with hard anodized aluminum with non-stick coating. Due to hard anodized material, it is an excellent heat conductor.
It comes stylish and modern design which is durable too. This nonstick wok is oven safe to 450 degrees Fahrenheit. Its non-stick interior makes cleaning breeze.
Its wide curved sides and flat base makes it compatible to use with electric stovetop. Wide cooking surface perfect for stir-frying on an electric stovetop.
Now you don't need to put extra oil to your dishes as it comes with 3-inch nonstick interior which makes your food healthier. The nonstick interior also makes it more durable to use with the metal spatula, spoon and whisk etc.
Its large-sized handle stays cool while cooking on the stovetop. So that you will not burn your hands. Though this cookware is dishwasher safe, I recommend you hand washing for more durability.
Click Here for Latest Reviews and Price of Calphalon Contemporary Nonstick 12-Inch Flat-Bottom Wok
Lodge 14 Inch Cast Iron Wok
The Lodge brand has been manufacturing quality cookware and accessories since 1986. Lodge 14-inch cast iron wok is not an exception. This wok is a versatile and durable cookware which boasts of about its quality.
The wok has 14 inches' diameter at the top and 5.5 inches at the bottom. It's flattened bottom which is ideal to use with gas, electric stove and induction cooking. This allows for better heat retention and even heating which makes it perfect for the electric stovetop. It also works great for oven, grill or campfire.
This is pre-seasoned with 100% vegetable oil which gives it non-stick properties. More and more uses allow you for better seasoning. There is no chemical or synthetic coating is used.
If you are a newbie to use cast iron wok, then you should keep in mind that this wok requires special cleaning. Don't place in the dishwasher to clean. Instead, I recommend washing by hands with water and non-abrasive cloth. Dry it thoroughly with using heat to evaporate water. Then rub with cooking oil by using paper towel.
As it is heavy in weight, you should be careful while handling this wok. There is a possibility of damage the wok if it will have dropped. It is better to use oven mitts to hold handles of the wok.
Overall this Lodge wok is not just for Asian cooking but can cook anything you want.
Click Here for Latest Reviews and Price of Lodge 14 Inch Cast Iron Wok
Check out the following video that shows Comparison of new lodge cast iron woks.
T-fal A80789 Specialty Nonstick PFOA-Free Jumbo Wok Cookware
T-fal A80789 wok comes in large 14-inch size which accommodates cooking for a large family. Due to its non-stick surface, food won't stick to the pan while cooking and allows for ease in use. You also get nutritional benefit with less oil cooking.
Its aluminum construction makes it light in weight. As it is made with aluminum, can't be used with the induction cooktop. But it's flat bottom makes it suitable for gas and an electric stove top. The aluminum construction also allows for fast and even heat distribution on electric stove.
You can use this cookware in your oven. It is oven safe up to 350-degrees F.
It has long ergonomically designed handle that gives you a comfortable grip. This makes the wok easy to use and move. The handle covered with silicon which stays cool while cooking. It works perfectly for the electric stove top.
Though it is dishwasher safe, it is easy to clean by hands due to its non-stick interior and exterior.
Click Here for Latest Reviews and Price of T-fal A80789 Specialty Nonstick PFOA-Free Jumbo Wok Cookware
Wrap-Up
Now, you know that you can use wok on an electric stove and how to use it. If you have an electric stove, you can enjoy the recipes with a wok.
If you already have round-bottomed wok then, you can use it on an electric stove with special necessary adjustments. But If you going to buy new wok for electric stove then I recommend to buy flat bottomed wok.