( Disclaimer: As an Amazon Associate, we earn commissions from qualifying purchases at NO additional cost to the customer.)                                          
Are you looking for best coffee grinder for french press?
Then you came at right place.
 A perfect cup of coffee is the great way to kick start your day with full of energy. There are so many ways to make a coffee but with a french press, you can make a superior coffee.
Coffee aficionados always admire french press coffee as it offers a rich flavour of coffee with great taste. It is also an easy and less pricey technique to make a fresh coffee. You can catch a coffee, brimming with flavour, directly from the bean without filtration with french press.
If you are looking for the best coffee grinder for a french press, then this comprehensive buying guide will definitely help you to take well informed decision.
          

What is french press?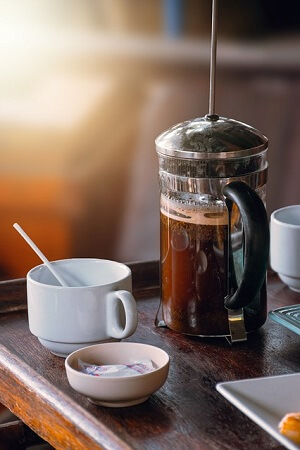 The French press technique undergone various design modification over the years, since it have been first introduced in France back in 1920s. It is also known  as a cafetière, press pot, сafetière à piston, coffee press, or coffee plunger. It is a glass cylinder which has plunger inside.
In this popular method, the coffee and the water infuse in cylindrical glass and mesh filter uses to separate the coffee bean grounds from water which stays at bottom. The magnificence of a french press lies in its simplicity. This french press technique produces coffee with high quality, strong flavour and having a nutritional content. The folks who love strong flavour coffee adore the quality and rich taste of coffee.
What is perfect grind size for french press?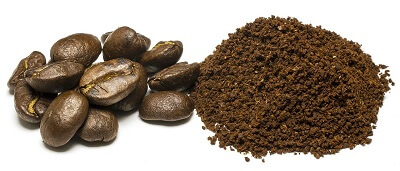 You should opt for coarse grind for a french press considering its mechanism. When you press a plunger down, the ground settles at bottom which averts any ground particles in your cup of coffee.
The fine grinds will get wedged in mesh filter or coffee may turn out to be bitter taste or coffee grounds may mixed up in your cup of coffee. It will also get difficult to press down the filter.
If you wish to enjoy a rich and strong flavourful coffee, you require consistent coarse grind every time.
Check Out For Best Turkish Coffee Grinder Review
 

What is the best french press coffee grinder?



            The best coffee grinder for the french press is, which can grind coarse consistently. Some Manual coffee grinder are really good for french press coffee but in today's fast world we don't have enough time for manual grinding, so electric ones are good option.
There are various types of coffee grinder out there. Whereas a blade grinder is not a good choice as inconsistency and overheat adversely affect the flavour. Electric burr grinders are perfect for a french press as they delivers reliable end result consistently.
Things to consider when buying a best coffee grinder for french press
            If you are planning to buy a coffee grinder for a french press, consider following things before buying which helps you to get best one as per your needs:
Consistent end result is the most important feature to look for in every coffee grinder for a french press. You need consistently coarse coffee grounds for a french press coffee. If your grinder not able to do so, you lose the real taste and quality of a french press coffee.
There are numerous coffee grinders available out there in the market in all sizes and shapes. Some are small and compact or some are large in size. Therefore, choose the grinder considering the counter space available in your kitchen to store it.
You should look for a model which creates less amount of static. You have to wait for some time before you get the coffee out as high amount of static produced by grinder. Here manual grinders are good choice as they produce less static compared to electric ones. But some new models of burr grinders have made provision to solve this.
The best coffee grinder for a french press is one which produces right size of coffee ground i.e. coarse. There are settings for grind the coffee beans finest to coarsest. All devices have different settings, find out the right setting for a french press. More grind setting renders more flexibility.
The burr and motor built in coffee grinder creates noise while grinding a coffee. Some grinder models make loud noise and some produces minimum noise. Choose the grinder which produces less noise. So you can make a coffee grind at early in the morning and late at night without disturbing others.
There are various coffee grinders available in the market from $20 to thousands of dollars. You can buy a manual and semi automatic coffee grinder under $100. For automatic grinder you have to pay more but they are really convenient and require comparatively lesser efforts.
Blade grinders are electric but most inexpensive which uses metal blades to dice coffee beans. But they generates overheat and inconsistent result which adversely affects the quality and taste of coffee.
Whereas Burr grinder is a device power driven by electric motor. If you want perfection in coffee, you get accurate and precise result by using this grinder. They are more expensive than blade models but worth for the extra bucks you pay.
Stepped or stepless grinder
The grinder comes with stepped or stepless features from which you can customize grind size. Stepped model offers limited options whereas stepless allows for infinite options.
Doserless models collect your ground coffee directly into the french press whereas doser grinder collect them in built in segment. Doser grinders are less messier than doserless one.
Check Out For Breville BCG600 Dose Control Pro Grinder Review
  How to make a french press coffee?



A delicious, hot cup of coffee gives delightful pleasure. A french press is easy and less expensive way to make that one. A perfect a french press coffee not only requires all necessary ingredients but also right technique. Here I am going to share with you recipe for a perfect cup of the french press coffee.
Grind the 7g of coffee beans at coarse resemble breadcrumbs. If it becomes fine, your coffee taste going to bitter and you will lose real taste of a french press.
Heat the water till reaches to boil (approx 205 degree) and turn off. Leave for 30 seconds.
Preheat the french press for 1 min before brewing. Add a 7g of coffee in the pot and then add 200ml hot water. The Golden Brewing ratio for perfect a french press coffee is 1g of coffee to 17g of water.
Reinsert the plunger in a pot and wait for timer to hit 4 minutes, it's time for brewing the coffee. Don't stir the coffee. Now Press the plunger slowly all the way down with steady pressure.
After every use clean the pot with mild detergent and dry it.
If you are totally newbie for french press, this video will give you some idea to make perfect french press coffee.
French press brewing mistakes
Following are some tips which helps you to avoid from making a french press brewing mistakes.
 Best coffee grinder for the french press review
1. Rancilio HSD-ROC-SD Rocky Espresso Coffee Grinder
As the name depicts that it is an expresso grinder, but it will also works excellent for a french press, drip and perc. This Rancilio HSD-ROC-SD Rocky Esprosso Coffee grinder is fully packed with professional features and versatile functionality. It is great choice for home use as well as pernickety home barista due to its undeniable quality and durability. This coffee grinder is perfect for coffee connoisseurs who seek out for better control over grinding.
Features
1.Commercial grade burrs
It comes with 50 mm flat steel grinding commercial grade burrs like other commercial grinders which aids quality performance like commercial level.
2.Stepped 55 grind settings
The programming dial is included underneath the hopper.
This one helps you for easy 55 grind settings to control over any type of grinding. It offers versatility for perfect coarse to fine grind.
3.Heavy and Powerful construction
It comes with heavy duty powerful 166 watt direct drive motor spinning at 1725 RPMs. It is featured with solid construction weighs 18 pounds which ensures its durability.
4.Tinted bean hopper
It comes with compact bean hopper which is blue tinted for UV protection of beans. It can hold 0.65lb beans capacity at one go.
Pros
1.Quiet and cool functioning
There is a perfect balance between high powered efficient motor and grinder to deliver quiet performance. The tempered steel burrs which rotate at slow speed and strong motor, both prevents from overheating.
2.Accommodate variety of brews
This is the perfect coffee grinder which accommodate all types of brews from fine for espresso to coarse for a french press. It provides consistent grind across all brew ranges. This works great for those who change brew every time.
3.Safety
There is several safety features are added while designing this device by Rancilio. It prevents torque and rocking issue while operating. It comes with thermal protection which prevents overheating issue. The motor designed with a safety switch which averts high-temperature overload.
Cons
1.Difficulty in manipulating power switch
You have to hold down the grind switch whole time from start to finish for operating machine. It creates difficulty to adjust coarseness at the same time of grinding going on.
2.Beans get stucked in screw holes
The whole coffee beans get stucked in screw holes in place are exposed. It makes difficult to loosen the screws.
Click Here for Latest Reviews and Price of Rancilio HSD-ROC-SD Rocky Espresso Coffee Grinder
You can observe the verastality from fine to coarse grind of rocky by following video.
Verdict
No any other coffee grinder out there in the market can beat this Italian creation at same price range. Rancilio rocky doserless coffee grinder won heart of so many folks by its quality performance. It offers nice balance between price and quality.
Check Out For Best Masticating Juicer Under $100
2. Baratza Virtuoso 586 Coffee Grinder
With beautiful name 'Baratza', it definitely meets your expectation in smoother look and versatility also. It is upgraded version of previous 585 models with improved gearbox and professional grade 40mm conical burrs. Baratza virtuso-conical burr coffee grinder (with bin)provides splendid quality grind for both- coarse for the french press as well as fine for espresso with equal consistency.
Features
1.Professional grade 40 mm conical burrs
This model engineered with European made professional grade 40 mm conical burrs which can grind coffee at 1.5 to 2.4g/sec. as per your settings. These burrs produce uniform grind consistently.
2.Durable build quality with the compact design
It has built in powerful, high torque DC motor. The baratza always designs high standard parts. They use plastic parts but they are made with ABS plastic so they are not fragile anymore. It comes with compact design with the weight of 8 pounds which is quiet heavier than other models in the market.
3. 40 adjustable grind settings
It is provided with wide range of 40 grind settings adjustable from fine for espresso to coarse for a french press. It has grind range from 250 to 1200 microns.
4.Timer switch
You can set time of 60 seconds with timer switch, located at right side, using segmented graphics.
5.Large hopper and bin
It comes with large sized hopper i.e. 8oz and grind bin i.e 5o.z. It can hold fair amount of coffee for home user.
Pros
1.Anti static parts
It operates at slow speed reduces the static build up. The collection bin made with anti static coating to minimize static build up as much as possible. This helps to minimize the mess.
2.Easy to operate and clean
This grinder is easy to operate as it is equipped with simple control. The burrs are easy to remove for cleaning.
3.Consistent uniform grind
Efficient DC motor and professional grade conical burrs produce consistent uniform grinds.
4.Less noisy
The metal outer surface assists reducing noise. This one is less noisy compared to other models at this price range.
Cons
1.Little messy-
It creates little mess as grinds are dripping down to outer side of grinder.
2.Use of plastic parts
The majority of parts made of plastic which suspects on durability. But once it settles down on kitchen countertop there is minimum chance for damaging.
Verdict
This quieter model of baratza vituso is ideal for home users. If you are a french press coffee lover, it is perfect for you as it produces perfect ground beans for the french press.
Click Here for Latest Reviews and Price of Baratza Virtuoso 586 Coffee Grinder
3. Baratza Encore 586 Conical Burr Coffee Grinder
Baratza is one of the well known brand for making quality coffee grinder. This Baratza Encore 586 is the best entry level coffee grinders by Baratza for those who are enthusiastic to make coffee at home. It provides wide range of grind sizes from fine to coarse with fair consistency and adjustability.
Features
1.Stepped 40 grind settings
It has 40 stepped settings, adjustable from fine for espressos to coarse grind for a french press by simply twisting the bean hopper. It allows for grind range from 250 to 1200 microns for variety of brew methods.
2.Gear box
Baratza comes with the improved second generation gear box 2.0 which ensures durability for long time.
3.Large capacity hopper
It has bean hopper with 8oz or 227g capacity which is quiet large for home use. For additional capacity, it is attuned with the bean hopper extension.
4.Automatic or manual
You can control the grinder manually with pressing the button located in front of the device or use on/off switch for grinding larger quantities.
5.40mm conical burrs
It is engineered with sharp 40mm conical burrs manufactured in Europe which is the heart of this encore. They allows for consistent grinds for variety of brews.
Pros
1.Easy to clean and operate
It is easy to operate by just pressing on/off switch. The burrs can easily remove without any tool, so cleaning is breeze.
2.Produces less static and heat
It has efficient DC motor which keeps your coffee beans cool in stretched grind time. Electric and gear speed reducer also helps to reduce the burr to 450RPM which helps to reduce static and heat.
3.Good value for money
It is good value for money with amazing features like setting adjustment, conical burr set, and quality results compared to other grinders in the market.
4.Small footprint
It featured with small footprint so it doesn't cover lot of space on counter space.
Cons
1.Little messy
When you take plastic ground collector bin out, the coffee dustings spray all around and some clings below the collector bin.
2.Major design made of plastic
The encore has majority parts made with plastic which are not too attractive.
3.No timer
This encore grinder has lack of timer function.
Verdict
Baratza encore is the perfect for newbie coffee brewer and those who don't want to commit for expensive burr grinder for a french press.  It offers Perfect balance between cost and quality.  In fact this grinder is worth more than the price you pay for.
Click Here for Latest Reviews and Price of Baratza Encore 586 Conical Burr Coffee Grinder
Check Out For Best Meat Grinder Under  $200 Review
4. Capresso 560.01 Infinity Burr Grinder
If you are looking for electric conical burr grinder under $100, then capresso 560.01 is the best option with great features. It comes in elegant user friendly design with 100 watt gear reduction motor with an RPM of 450. It grinds coffee astoundingly in an extremely wide range from Turkish fine to coarse grind for a french press. This infinity burr grinder is well known for maximum aroma and flavour preservation.
Features
1. 100 watt conical burr grinder
This coffee grinder comes with 100watt power. The gear reduction motor grinds at slow speed which reduces static build up and noise also.  It featured with Commercial grade solid conical steel burrs. They designed with advanced cutting design for high exactitude grinding.
2. 16 grind settings
It is provided with clearly marked setting for extra fine, fine, regular and coarse under which additional each 4 options are given. It has 16 grind settings apt from Turkish to a french press.
3.Built in timer
There is stainless steel twist timer allocated above which allows you to set grinding time from 5 to 60 sec.
4.Capacity
It comes with removable bean hopper with capacity of 8.8 ounces of beans and ground coffee container which can holds upto 4oz. of ground coffee.
Pros
1.Compact design and easy usage
You can manipulate grind setting easily by twisting the hopper to the precise marking. You can use the electronic timer to grind from 5 to 60 seconds with the simple press of a button.  It featured with compact design so easy to store anywhere.
2.Reduced burr speed
Its grinding speed is slow so coffee ground is not overheated which results in maximum aroma and flavour preservation.
3.easy to clean
The bean hopper is removable so you can detach it from the machine for cleaning. All parts are removable for cleaning ease.
Cons
1.Some coffee trapped in grinding chamber
Some coffee beans and ground coffee were stacked inside the grinding chamber. You should clean it after every usage otherwise you will lose freshness of ground coffee. But cleaning is breeze as grinding chamber can easily cleaned with a brush.
Click Here for Latest Reviews and Price of Capresso 560.01 Infinity Burr Grinder
Watch out following video for making a french press coffee grind with capresso.
Verdict
It is a quiet best option under $100 that grinds for wide ranges of brewing methods. The grind quality is remarkable which is hard to found in other grinders in market out there at this price range. It is affordable, versatile and consistent than other competitor's grinder model.
5. Cuisinart DBM-8 Supreme Grind Automatic Burr Mill
This is a amazing entry level burr mill grinder which is great edition by cuisinart. This Cuisinart DBM-8 Supreme Grind Automatic Burr Mill is pocket sized stylish grinder which a packs lot of value under 50$. This fully automatic burr grinder does a great job on coarse uniform grind for a french press with optimum flavour.
Features
1.Elegant stainless steel design
This grinder comes with elegant stainless steel design which looks attractive stylish in appearance. There are no any wasted elements in design, each element serve ups specific purpose.
2.Adjustable 18 grind setting
It is equipped with 18 positioned grind selector which allows grind texture ultra fine to coarse and they are controlled by clearly marked clicking dial.
3.Powerful motor
It has in built heavy duty which ensures you quick and easy grind of coffee. This promises you to take workload you set on it.
4.Power cord storage
It is provided with cord storage which ensures no hanging of cords. You can wrap up the cord at bottom for tidy storage after every usage.
5.Slide dial option
It has accurate and consistent slide dial option to adjust the grind quantity. This slide dial allows you standard 4 to 18 cups grind quantity in one setting.
Pros
1.Dishwasher safe
Cleaning is most tedious task for most coffee grinder users. The parts like hopper, hopper lid, grind chamber, burr can remove easily for cleaning purpose and they are dishwasher friendly parts which enhances its convenience.
2.Great capacity grind chamber
There is removable large  grind chamber under the control panel comes with lid which can to hold up to 32 cups coffee in one setting.
3.Power cord storage
It is provided with cord storage which ensures no hanging of cords. You can wrap up the cord at bottom for tidy storage after every usage.
Cons
1.Generates Lot of static and mess
The static in grind chamber creates mess. When transferring the coffee grounds, they jump out and cling to all surfaces. The more coffee grounds stick to the container by its side and between the container and unit, which creates lot of mess
2.Noisy
It is noisy coffee grinder as it generates shrill and loud noise while operating.
Verdict
Cuisinart DBM8 supreme grind automatic burr mill is the entry level stylish best grinder for home brewing beginners.  This is one of the Best coffee grinder for french press under $50, good value for money.
Click Here for Latest Reviews and Price of Cuisinart DBM-8 Supreme Grind Automatic Burr Mill
Best Coffee Grinder For French Press -Short Video