( Disclaimer: As an Amazon Associate, we earn commissions from qualifying purchases at NO additional cost to the customer.)                                          
What's better than grinding meat at home and add creativity to your healthy diet? Yeah, a meat grinder is a perfect appliance to grind your meat own. It is the best way to control your food and to know what exactly goes into the food. You can avoid the preservatives of the pre-packaged meat that you buy from the supermarket. Also, you can save your bucks spending on pre- packaged meat in long run by having a decent meat grinder at home.
Here we come up with the Top 5 Best Meat Grinders Under $200 with comprehensive buying guide. Selecting the best one for you makes easy with this buying guide.
Meat Grinder Vs. Food Processor
The meat grinder is a kitchen appliance especially made for mincing a meat. It possesses better control on the size of grind and having more uniformity in processing the meat.
A food processor is a kitchen device with interchangeable blades; used to chop, mince, grate, slice, and blend a variety of food items.
Yes, both appliances can grind the meat. But you will found the difference in the texture of meat after grinding. When you use the food processor for grinding the meat, it is not much efficient to grind meat evenly as meat grinder does. You will observe both large and fine pieces of meat after grinding. There is also a possibility of over grind meat like slimy paste.
Check Out For Best Coffee grinder For French Press Review
How To Choose The Right Meat Grinder
1.Motor Power
Electric meat grinders come with different motor power. They are priced on the basis of the motor power. The low-end models have minimum 180 power and maximum 750 watts power for high-end models.
2.Usage frequency
If you are a casual user and going to grind meat for few people at once, then you should choose the small meat grinder. If you are going to use the grinder frequently or to serve a lot of people, then you should go with bigger and more powerful blender.
3.Durability
It is the important aspect to consider when buying a meat grinder. Different meat grinders come with different housing. They come with metallic, aluminium or stainless steel construction. Aluminium and stainless steel housing are most durable.
4.Attachments
The meat grinder comes with different attachments which enhance its versatility. They come with the attachments like sausage attachment, Kubbe attachment, grinding plates, stuffing tubes etc.
How Does A Meat Grinder Work?
The meat grinder is a kitchen device that enables you to grind meat, fish, and vegetables efficiently. There is a feed chute on the top of meat grinder through which you can insert the meat or ingredient that you want to grind. From a feeding tube, the ingredient is passed to screw conveyor.
Firstly, the meat goes under the augur that helps to move the meat through the tube, then the cutter assembly actually cuts the meat and finally, it comes out through a grinding plate. This task is completed with electric power in electric meat grinder or with a manually powered wheel in a manual meat grinder. The fineness of a meat depends upon the size of the holes on grinding plate. You can use the plates according to your different food creations.
Check Out For Best Juicer For Wheatgrass Review
Different Uses Of Meat Grinder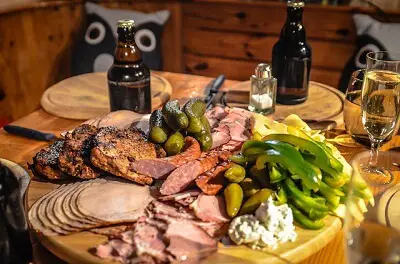 As the name depicts meat grinder is specially designed for grinding meat even consistently. But you can also use it for different purposes. It can grind, mince, chop, and cut. You can enjoy non-vegetarian as well as some vegetarian recipes at home by using a meat grinder. You can make fresh ground beef, homemade meatballs, snack sticks, mashed potatoes, sausages like deer sausage, pork sausage and so on; Also try different recipes using a meat grinder according to your food creativity.
How Do You Use And Care For A Meat Grinder?
Using a meat grinder is not much difficult. Initially, you have to assemble the grinder with the grinding plate you want. Place the plate under the spout of the grinder to collect the ground meat. Insert the trimmed meat into the feed tube turn on the grinder. Press the meat with the pusher. Grinding meat is a breeze with the right meat grinder.
Some considerations while grinding: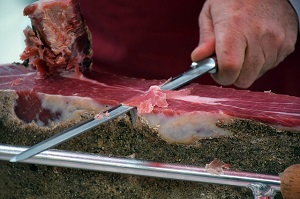 1.Properly trim your meat
Trimming meat  includes the taking away unwanted parts of meat like fat and sinew. Sometimes the blades getting dull due to the pieces of sinew caught around the blade and clogged the grinder plate. It adversely affects in the end result.
2.The temperature of meat
It is a very an essential thing that the meat you are going process should be, just above the freezing temperature at the moment it's processed. Chill meat in the freezer for 30 minutes before grinding, so that connective tissues and fat can be processed easily. But it gets difficult in case of warm meat to process.
3.Sharpness of blade and plate
The blade and plate set should be sharp for efficient meat grinding. Dull blades and plates make the grinding job difficult or can cause for a jamming problem.
How To Sharpen The Blades And Plates Of The Meat Grinder
Following is the video that shows how to sharpen the blades and plates of the meat grinder easily and quickly.
How To Clean A Meat grinder?
When you finished your grinding process with the meat grinder, there are some meat residues stacked in it. So you can run a grinder by inserting one or two pieces of bread through feed chute of the grinder. The bread soaks the small pieces of meat residue and collects it. This makes cleaning process easy.
Unplug the grinder and disassemble the parts. All the parts soak in hot soapy water and wash it to eliminate oily residue of meat. Scrub the parts with a sponge. Be careful while washing the blade as it has sharp edges. Make use of a bottle brush to clean thoroughly feed tube, grinding plate, and hopper. Clean the motor with a damp cloth. After washing all the parts let them dry thoroughly.
Check Out For How To Clean Juicer Parts?
 5 Best Meat Grinders Under $200
Following is the List Of Best meat grinder
1. STX International Model STX-3000-TF Turboforce Electric Grinder
STX is a renowned brand, have been sold over 80,000 grinders in the last seven years nationwide. They set the standard for excellence with 99.8 customer approval rating. STX Turboforce 3000 is an electric meat grinder reliable for grinding meat in large quantities. This high capacity meat grinder is powerful and durable comes with a lot of accessories. It is featured with three-speed setting that is high, low and reverse. Reverse function prevents clogging while operating a grinder. It has a size no. 12 grinding plate that improbably clogged.
Pros
Powerful motor
It has 800 watts and 1200 watt motor power for normal settings and 3000 watts locked motor power which is enough power to simply process large quantity of meat. This meat grinder is capable to grind 175-225 pounds in an hour.
Durability
There is hardened carbon steel gear housing inside the unit and the outer side of grinder made from cast iron which never likely to break during normal usage. Manufacturer provides 1-year repair and replacement warranty that ensures durability.
Safety
The STX takes care of safety while designing a grinder. If you have a concern about overheating or electrical problem, STX provided circuit breaker to overcome this problems.
Lot of Attachments
This STX grinder comes with various attachments which enhance its versatility. It includes 3 sharp cutting blades, 3 different sized sausage tubes having a diameter of a ¾ inch, ½ inch and 5/8 inch, 3 grinding plates, plastic pusher and kubbe attachments.
Easy to use and store
It is very simple to use, assemble and disassemble. It weighs only about 14 pounds which make it easy to store and move.
Cons
The aluminium parts of the grinder are not dishwasher safe.
The feed tube is bit small as it is not capable of processing any ingredient larger than 2" square cube meat.
Click Here for Current Price and Reviews of  STX International Model STX-3000-TF Turboforce Electric Grinder
Following is the video that shows how super easy to assemble and use this STX TF 3000 meat grinder.
2. Sunmile SM-G50 ETL Max 1.3 HP #12 Electric Meat Grinder
Sunmile SM-G50 ETL meat grinder is perfect for home use to grind a large amount of meat in short span of time. It has 1000 watt powerful motor to process meat quickly without any trouble. This meat grinder is featured with big gears and gear box to grind all types of meat efficiently. It comes with high capacity aluminium meat tray to hold a generous amount of meat at once which makes meat processing simple and quick. This grinder has a capacity of grind up to 200 lbs per hour. The internal tube is specially designed to grind more competently.
Pros
It has circuit breaker inside the meat grinder that prevents motor burnout. It has a safety switch for emergency cut off. This ETL certified meat grinder comes with 1-year manufacturer warranty.
This comes with the special design to store cord and accessories inside the meat grinder. This is convenient for neat storage.
It is easy to operate with On/ Off/ Reset/ Reverse Switch. No need to read complicated manuals.
You can also grind grain, barley, and corn by using this grinder.
Cons
The parts are not dishwasher safe.
It generates noise while operating.
Click Here for Current Price and Reviews of Sunmile SM-G50 ETL Max 1.3 HP #12 Electric Meat Grinder
Check Out For Best Masticating Juicer Under $100
3.Weston 575 watt Electric Heavy Duty Meat Grinder
This is a reliable grinder for home cooks, home gardener or homemakers who love to make healthy and nutritious homemade meat. This Weston electric heavy duty meat grinder featured with compact design, packed with 575 watt motor power. The powerful motor enables it the output speed of 3 to 4 pounds per minute. It comes with 3 grinding plates for a fine, medium and coarse grind. This Weston grinder offers you perfect sausage every time with its sausage funnel. It comes with large meat tray for convenient usage. It is easy to operate with forward and reverse operation.
Pros
Due to the compact design, it is easy to store on a countertop. The cord and attachment storage inside stomper helps for  tidy storage.
It has built-in circuit breaker and thermostat which prevents the motor from overheating and burning.
This meat grinder works well for making pet food.
Cons
It has a plastic gear that is not capable to handle heavy chores.
Click Here for Current Price and Reviews of Weston 575 watt Electric Heavy Duty Meat Grinder
Following is the video that shows how easy to assemble and use this Weston meat grinder. Take a look.
4.Kitchener Heavy Duty Meat Grinder
Kitchener heavy duty meat grinder equipped with 1/2 horsepower 370 W motor which can grind meat 4 lbs per minute. This powerful motor is capable to grind bones. Its air-cooled, and gear driven mechanical steel design allows for quiet grinding.
The 3 speeds and set of stuffing tubes makes this meat grinder versatile appliance.
The large capacity stainless steel meat pan comes holds large quantity of meat which is easy to clean also. Large meat pan and wide throat accommodates large meat cuts.
Kitchener also takes care of safety while designing this grinder. The stainless steel casing assures the safe contact with food.
Pros
There is no overheating or clogging issue.
It can grind large quantity of meat in just few minutes.
The grinder equipped with powerful motor which can grind tough meat cuts and small chicken and fish bones.
The parts of the grinder are easy to assemble and disassemble.
Cons
It is not capable to grind red meat bones and chicken thigh bones.
Click Here for Current Price and Reviews of Kitchener Heavy Duty Meat Grinder
Also Check Out For Best Blender For Smoothies Under $100 Review
5. Lem Products 1158 LEM Mighty Bite Grinder
Lem mighty bite grinder is appreciated by hunters, butchers, restaurants and homemakers. This Lem Products 1158 LEM Mighty Bite Grinder is an ideal grinder for those who love meat grinding and sausage making. Lem mid-range meat grinder allows for a perfect balance between price and function. It has in-built 500watt/1000watt motor power and 120V permanently lubricated motor. The meat pan that holds 3 pounds meat at one go. It has a circuit breaker to ensure motor cuts out for safety purpose.
Pros
It has aluminium construction; long-lasting gear and heavy duty handle which makes it a durable grinder. This grinder is ETL approved and having 1-year warranty.
It is permanently lubricated to grind meat at its perfection and quick operation.
It generates less noise during the operation as its aluminium housing quietens the motor very well.
Cons
It is a bit heavy meat grinder to move and store easily.
Click Here for Current Price and Reviews of Lem Products 1158 LEM Mighty Bite Grinder
Watch out the following video that shows how to use the Lem mighty bite grinder to make perfect sausages.
Wrap Up
The meat grinder is perfect for those who concern about the nutrition and freshness of meat. If you want a budget-friendly meat grinder, these Top 5 Best meat grinders under $200 are smart options.
You can select anyone of these grinders' suits to your need; it would definitely meet your expectations.
Related Articles:
Best Meat Grinder with Metal Gears