( Disclaimer: As an Amazon Associate, we earn commissions from qualifying purchases at NO additional cost to the customer.)                                          
I know, you are here because you are living in a hard water area and your old steam iron have been struggling with the hard water. Then, you need to get the best steam iron for hard water.
There are so many steam iron brands available in the market out there. But all are not reliable to use with hard water.
So, today I am going to reveal you, our top picks with a comprehensive buying guide. I recommend, you read the buying guide, so that you will able to make a well-informed decision.
If you are in hurry, then I would recommend this steam iron for hard water:
Top pick-Rowenta DW7180 Everlast Anti-calc Steam Iron
Top 3 Best Steam Iron for Hard Water
Rowenta DW7180 Everlast Anti-calc Steam Iron
Rowenta DW 7180 Steam iron is stylish German made, boasts its feature of an anti-calc system with the lime collector. Exactly, this is the steam iron which you were looking for!
It is packed with 1750W power, heats up within 2 minutes and keeps it hot throughout the ironing session.
It has high-quality stainless-steel soleplates, glides easily over any type of cloth. The soleplate has 400 micro-steam holes which provide even steam distribution.
Its high precision tip allows reaching tricky areas of the cloth. The iron has user-friendly thermostat knob convenient for the reading of settings.
The iron features 12-ounce water tank capacity, allows for ironing up to 30 minutes without the need for refilling.
This Rowenta steam iron comes with unique scale collector and anti-calc feature which helps to maintain steam output over the time.
It catches almost one tablespoon of calc in 3 months. This helps to prevent mineral build up.
The iron has a self-cleaning function which is complementary to an anti-calc system.
It flushes out the small mineral deposits that gets accumulated, in the water tank of iron and helps to prevent the micro holes from getting clogged. This enhances the performance of iron.
Overall it is outstanding steam iron especially for people getting hard water.
Click Here for Latest Reviews and Price of Rowenta DW7180 Everlast Anti-calc Steam Iron
Pros
Pros
Patented scale collector for hard water use
Vertical steaming for hanging garments
Even steam distribution with 400 micro holes
Self-cleaning function
3-way auto shut off function
Cons
Cons
T-fal FV2640U0 Powerglide Anti-Calc Steam Iron
T-fal FV2640UO steam iron is specially designed for hard water issue.
It comes with an exclusive calc collector which is removable. This catches the particles and minerals from hard water for clean steam.
So, it helps in resolving hard water issue and generating 50% more steam.
Cleaning is a breeze because you can just rinse the calc collector underwater and it is ready to use again.
The steam iron is featured with Durilium ceramic soleplate which is scratch resistant. It allows for smooth and superior gliding over the cloth.
This 1800W powerful iron has multiple active steam holes. It removes the wrinkles quickly from any cloth.
The steam iron easily reaches to tricky areas due to the precision point of iron. It has ergonomic steam trigger which provides a powerful steam shot.
It has convenient anti-drip system to prevent leakage on delicate clothes, when the iron is on low temperature,.
Many steam irons get damaged due to frequent falling on iron board during use. But this iron has a stable base and doesn't tip over when rested on the heel.
Click Here for Latest Reviews and Price of T-fal FV2640U0 Powerglide Anti-Calc Steam Iron
Pros
Pros
Removable calc collector for easy cleaning
Handles heavy-duty ironing task
Large water tank which is easy to refill
Easy to maneuver
Long cord
Cons
Cons
Some users experience, leakage issue
Maytag M400 Speed Heat Steam Iron
Maytag M400 Speed Heat Steam Iron and vertical steamer come with the latest heating technology with lower electricity consumption.
So, if you are looking for energy efficient steam iron with anti-calc function, then this one is for you!
The soleplate is constructed of stainless-steel to reach maximum temperature level within a minute. It makes a clicking sound when the heating process is completed.
The steam iron has steam burst function to remove tough creases on clothes. It has a soft grip which is comfortable to use. The water tank is 8 oz capacity and it is detachable.
This steam iron has 360-degree swivel 8ft cord which makes it easy to use. The iron has a precision thermostat with quick dialing feature for easy setting of temperature . It comes with the settings to iron linen, cotton, silk, wool, nylon or synthetic fabric.
The iron is featured with a self-cleaning system. It is equipped with anti-calc and anti-scale technology which makes it capable to use with hard water. This helps to enhance the overall life of the steam iron.
This 1500W steam iron covered with manufacturer's 2-year warranty.
Click Here for Latest Reviews and Price of Maytag M400 Speed Heat Steam Iron
Pros
Pros
Anti-calc and anti-scale technology
Light in weight
Heats up quickly
Easy to refill the water tank
Cons
Cons
Due to low water tank capacity, needs frequent refilling
Short power cord
What is Hard Water?
Usually, you notice the mineral deposits on an electric kettle, cooking dishes, steam iron or soap scum in your bathtub.
It is not the sign of lack of cleaning but this is the sign that your area is supplied with hard water.
Water always contains dissolved minerals naturally. Hard water means the water is highly concentrated (ranges between 120-180 PPM) with minerals such as Calcium and Magnesium.
The ideal Ph level of water is 7 whereas hard water has a Ph level above 7.
There is lime-scale build up on your steam iron, cooking dishes or shower head due to Calcium and magnesium carbonates. It is just lot of minerals.
Why Concern About Hard Water for Steam Iron?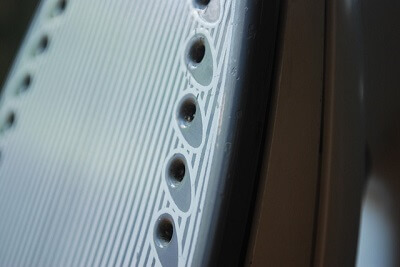 As we know, hard water means water rich in calcium and Magnesium salt.
When you use hard water in a steam iron, water evaporates inside the water reservoir of a steam iron. Due to a lot of Calcium content, it leads to lime-scale.
Over the period of time, constant limescale build up becomes hard white crust. It will ruin the parts of steam iron. This also may cause to block the holes on soleplate of the iron.
So, hard water can badly affect on steam iron and so as other appliances too.
How Much to Pay for Best Steam Iron For Hard Water?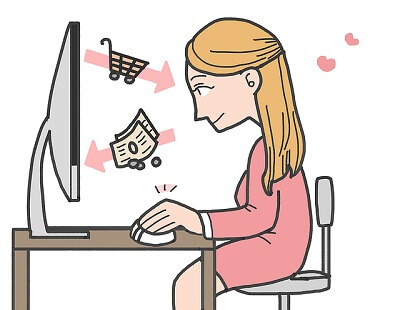 Price is the most important factor when using the steam iron with hard water.
If you are living in the hard water area, it is sure, that limescale develops over the period of time and soleplate hole will get blocked.
Some people prefer to buy an inexpensive steam iron. They will replace it when it gets clogged and becomes unusable.
So, you can get the steam iron ranges between $20 to $35, so it will not hurt much to replace when it becomes unusable.
Normally, these cheap iron lasts for a year, depends on the time and frequency of use.
Whereas some buyers buy expensive iron which is durable and long lasting. They are featured with an anti-calc system.
The price of these steam irons is usually above $40. The regular cleaning of these irons enhances the life of the iron
They normally last up to 5 years, depends upon usage and its frequency.
Check out for Best Iron For Cotton Clothes 
What to Look for Before Buying the Best Steam Iron for Hard Water?
Automatic Descaling system/Anti-calc system
If you need to use hard water for your steam iron, make sure it comes with automatic descaling which is the most essential factor while buying.
Some steam iron models come with filter inside iron, which keeps it away from limescale build up.
Self-cleaning
Select the steam iron with self-cleaning function. It just takes few minutes for self-cleaning process and prevents the calcium build-up.
Budget
Budget is an important concern when buying the best steam iron for the hard water area.
If you choose cheap iron, they are not long-lasting. If you go with expensive irons, they come with all necessary function and they are definitely more durable than cheap ones.
Looking for iron without auto shut off function? Then here are our top picks.
Tips for Using Best Steam Iron for Hard Water
Following are some important tips to use your steam iron with hard water. It helps to enhance the life of your steam iron.
Drain out the water from water tank of steam iron after every use.
If your area is supplied with hard water, then it is advisable to use distilled water mixed with hard water with a 50%-50% mix ratio.
How to Clean Hard Water Deposits from Steam Iron?
If you notice some hard water deposits getting started to accumulate, you need to clean it right away, before it gets tougher to clean over the period.
You can clean your steam iron with following easy steps.
You will need:
Cotton swab
Distilled water
White vinegar
Clean Rag
Process:
Clean the outer area of a water tank with a cotton swab to remove the thick area of limescale.
Take vinegar and transfer it into the water reservoir of a steam iron.
Plug in the iron on electrical outlet and set it on 'steam' setting.
Let's heat up the iron. Allow to steam the solution for at least 4 minutes. It helps to loosen the mineral deposit built up inside the iron. Wait until all solution gets evaporated.
Take a distilled water and again repeat the process.
Unplug the steam iron. Keep it in upside down to drain off the water tank. Allow it to dry thoroughly.
Final Thoughts
If you are living in hard water areas, these are the best steam iron for hard water.
They are featured with an anti-calc system which is most essential for dealing with hard water. It helps to enhance the life of steam iron even using with hard water.
But even though these steam iron model capable to use hard water, I recommend mixing distilled water with your hard water for longer use.
So, choose the steam iron that suits your need. I assure you won't get disappointed with these choices.