( Disclaimer : We hope you love the products we recommend! We just want to inform you in advance that, if you buy anything that we recommend here, then we may get some share or compensation from the links on this page.)
Are you looking for the wok for deep frying that transforms your deep frying game? Then you should get the best wok for deep frying.
You can cook most of the things in any type of wok. But certainly, some wok stands out for their specific cooking type. Most of you love fried chicken. But you know, the key to your delicious and crispy chicken is using the perfect deep-frying wok.
Most of the cooking recipes call for deep frying whether it is for Chinese recipe or west cuisine. If you want to go with a wok for especially for deep frying, then you should get right deep-frying wok.
So, today we come up with the best wok for deep frying with a comprehensive buying guide. Before dive into the best wok for deep frying read our buying guide that helps you to choose your best one.
Can Wok Be Used for Deep Frying?
Yes, certainly, you can use wok for deep frying. Deep frying in a wok is as similar as deep frying in stovetop pan or pot.
The wok is a versatile appliance can be used for every cooking technique like stir fry, steaming, stewing, deep frying etc. You can get the most from this multi-functional appliance.
Though wok is well known for stir-frying, it is also great for deep frying. In fact, it could be a real game-changer for your deep fried cuisine.
Using wok for deep frying allows you for less oil and fry more food in fewer batches than other types of pan or pots.
Can you use wok on an electric stove? check out here.
Advantages of Deep Frying in a Wok
The wok comes with its distinctive shape which has sloped sides and shallow depth. It is wide in diameter.
The wider surface allows for less using of oil and more roominess to deep fry the food. Light-weight foods float to the surface easily as they fried completely.
You can cook more food at once than stovetop pans. It means you can save your gas heat or energy.
The shallow depth allows for taking out the food easy and fast as soon as they fried.
Deep frying in a wok is less messy than deep frying in Dutch oven.
Deep Fryer Vs Wok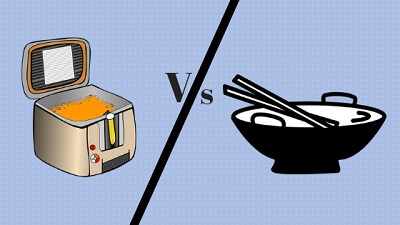 If you are using an electric deep fryer for deep fry your food, then you can control the temperature of oil with its automatic thermostat control throughout the deep frying process. If oil temperature goes beyond the danger mark, there is auto-shut off function for a deep fryer. So, there is no overheating oil issue with a deep fryer.
Whereas if you are using wok for deep frying, you cannot control the oil temperature. Because there are no such buttons for temperature control like a deep fryer. But you can use deep-frying thermometer to measure oil temperature. There is no auto shut off function available to wok. So, you should observe the oil all the time while cooking on a wok.
Looking for best wok for gas stove? then here are our top picks.
What is the Best Oil for Deep Frying in a Wok?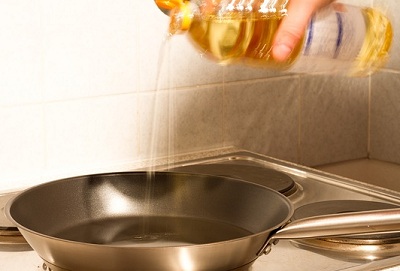 Deep frying in a wok doesn't need single particular oil for cooking all types of food. It depends on the type of dish you are going to deep fry. It changes according to different wok techniques, recipe, ingredients, and preferences.
But, yes, basically wok technique needs high temperature. So, it needs oil with high smoking points.
You can use sunflower seed oil, peanut oil or corn oil which has a high smoking point. The grape seed oil also preferable to deep fry as it has a mild flavor and it blends easily with any cooking dish. So, you can use any organic vegetable oil with a high smoking point suitable to your dish for deep frying in a wok.
How to Deep Fry in a Wok?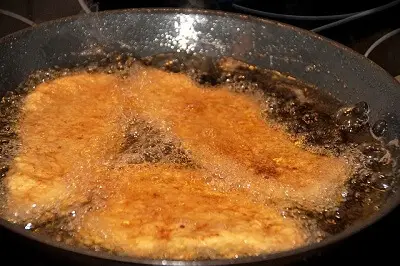 As I said above, wok is the best appliance for deep frying the food.
But how to deep fry food in a wok? Let's get to know.
Deep frying in wok is same as deep frying in a stovetop pan. But one thing you should keep in mind about oil temperature in a wok. Make sure, the wok is stable on the stovetop while deep frying the food.
It means oil should reach to the optimum temperature and it should be maintained throughout the deep frying.
So, for measuring temperature, I recommend using deep frying thermometer for trouble-free deep frying. It can measure the heat from 100 degrees Fahrenheit to 400 degrees Fahrenheit.
Process:
Heat oil in a wok over medium-high heat until reach up to 375 degrees Fahrenheit. You can check the degree with deep-frying thermometer.
Add food into the wok.
Fry till it cooks thoroughly and turns into golden brown color.
Stir the food intermittently using a spatula.
Take a tray or plate and line with a paper towel.
Retrieve the food using spatula or tong on a plate with paper towel and drain the excess oil.
Repeat the process for remaining food. Reheat the oil between two batches of food.
Want to know how to clean a wok with burnt food? check out here.
Tips for Deep Frying in a Wok
Moisture leads to oil to splash, so dry the food completely before going to fried.
Don't fill a wok with oil more than half.
Use deep-frying thermometer to measure oil temperature.
Add food pieces at one time, so that it will fry and cook evenly.
Don't add too much food at one go till crowded your wok, it leads to rapid fall down of oil temperature and you will lose the crispness of your food.
After finishing the deep frying, use a skimmer to remove the bits of food particles.
Best Wok for Deep Frying
Best Cast Iron Wok for Deep Frying: Bruntmor Pre-Seasoned Cast Iron Wok
Bruntmor cast iron wok comes with the sturdy base which enables stability while deep frying your cuisine which is an essential aspect for deep frying.
Seasoning is an important process for using a cast iron wok. But don't worry about seasoning! Because it is a pre-seasoned wok so that you don't need to season it. It is ready to use for cooking.
Its exclusive rustic design enables you to use it on electric, gas or induction cooktop with ease. This wok also can be used for an oven. The wok comes with large loop handles that ease handling while cooking.
Wok Care: Don't use harsh detergent or soap to clean out the wok. Use hot water and a nylon brush to clean it thoroughly after use. Don't immerse hot cast iron wok into cold water. After washing, dry it immediately with a dry towel and Lightly coat with oil.
Click Here for Latest Reviews and Price of  Bruntmor Pre-Seasoned Cast Iron Wok
Pros
Pre-seasoned wok
Comes with large handles for easy handling
Compatible with any type of cooking surface
Cons
Not reliable for pow wok cooking as it is heavy in weight
Best Carbon Steel Wok for Deep frying: Helen Chen's Asian Kitchen 14" Carbon Steel Wok
Helen Chen's Asian Kitchen 14" Carbon Steel Wok is a traditional wok which is made with the collaboration of Helen Chen. It is constructed of 1.8mm durable carbon steel enables quick heat up and cool which is the essence of Chinese cooking. Though it is made up of heavy gauge carbon steel, it is light in weight allows for ease in handling.
The wok comes with durable bamboo handle and helper handle for easy maneuvering. You should season the wok before using it. It ensures an ideal surface for frying, searing and prevents from future rusting.
Wok Care: For cleaning a wok, you need to soak wok in hot water for at least 5 minutes. It helps to loosen the dirt and sticky food residue that eases cleaning. Then clean inside with hot water and sponge and outside with hot water and a scrubber sponge. Dry it thoroughly on low heat before storing it.
Click Here for Latest Reviews and Price of Helen Chen's Asian Kitchen 14" Carbon Steel Wok
Pros
Compatible with gas as well as an electric stove with proper stability while deep frying
Works great for conducting heat
Fast heat up and cool down
Cons
If not seasoned appropriately, it can rust
Best Stainless-Steel Wok for Deep Frying: Cuisinart 726-38H Chef's Classic Stainless 14" Wok
The Cuisinart 726-38H Chef's wok constructed of stainless steel which has a mirror finish and amazing classic look. Due to stainless steel material, it doesn't get discolored. It also doesn't get reacted with any type of food and change the flavor. So that you can enjoy the real flavor of food all the time.
It has an aluminum encapsulated base that aids for quick and even heating for your deep frying. Though it comes with a flavor lock lid, don't use it while deep frying. But you can use it while steaming and lock the flavor of food.
Click Here for Latest Reviews and Price of Cuisinart 726-38H Chef's Classic Stainless 14" Wok
Pros
Easy to clean as it is dishwasher safe
Aluminum encapsulated base heats quickly and evenly
Comes with measurement markings for easy usage
Works well with electric cooktop
Cons
An issue with even heating
Difficulty in using with gas cooktop
Best Non-Stick Wok for Deep Frying: MICHELANGELO 5 Quart Non-Stick Wok
MICHELANGELO 5 Quart Non-Stick Wok is multipurpose cookware as you can do any type of cooking using this wok. You can stir-fry, roast, steam, boil, bake and lot more recipes with this wok.
It comes with quality ceramic and Titanium interior which is ultra-nonstick and scratch resistant. This ensures you about the durability and long life of wok. Overall versatility and quality of wok enable you to enhance your cooking performance and cook like a pro.
Its professional grade aluminum alloy helps for even and quick heating. The material used for construction is toxic-free which is just perfect for healthy cooking. Though it is dishwasher safe, hand wash is recommended.
Click Here for Latest Reviews and Price of MICHELANGELO 5 Quart Non-Stick Wok
Pros
Comes with extra accessories that are effective for deep frying
Versatile cookware as you can do stir-frying, steaming, boiling, deep frying and much more
Suitable for all types of stove tops
Toxic-free material for healthy cooking
Light in weight compared to cast iron and stainless steel wok
Cons
Metal handle gets very hot over a short period of time of cooking
Best Small Wok for Deep Frying: Lodge 9 inch Cast Iron Mini Wok
As the name depicts, this Lodge cast iron wok is small in size suitable to cook for a small family. It can hold 2-quart food at one time.
The cast iron material ensures superior heat retention, overall quality, durability and versatility of this appliance.
It is a pre-seasoned wok. So, it is ready to use for any type of cooking. You can use it on the gas stove, induction cooktop, oven, grill. This wok even great for using outdoor cooking as it can use over the camp-fire. So, you can enjoy outdoor cooking with this mini cookware.
It comes with dual loop style handle that eases maneuvering.
The wok can be used to fry, saute, sear, grill, braise, bake, boil and many more you can think of. You will feel short of work for cooking any cuisine by using this mini wok.
It comes with perfect size for deep frying as it doesn't get wasted too much oil and doesn't splatter oil over a countertop. It also works well for Indian deep-frying cuisine.
Click Here for Latest Reviews and Price of Lodge 9 inch Cast Iron Mini Wok
Pros
Versatile and durable
Can deep fry food without wasting much oil
Due to the wide top, oil doesn't get splatter over a cooktop
Easy to clean
Cons
Not suitable for stir-frying as food gets tossed outside the wok
Watch out the following video that shows different new ways of wok cooking along with deep frying.
Wrap-Up
So, these are the best woks for deep frying whether for Chinese, Indian or western cooking. You can deep fry all kinds of food hassle-free with this wok models.
Most of you might avoid deep frying at home because it is messy and expensive. The right wok could blow away these hesitations. Select the best wok according to stovetop you are going to use, the food you will need to deep fry frequently and the size of family you will cook for.
So, choose the wok according to your need which will take your deep frying experience to the next level!!