( Disclaimer: As an Amazon Associate, we earn commissions from qualifying purchases at NO additional cost to the customer.)                                          
Have you been noticing mould on your beautiful vertical blinds? Actually, vertical blinds are perfect breeding ground for mould due to high moisture level. Because of mould, your blinds look ugly as well as, if they will not remove for longer it causes serious health problems too.
Every homeowner who have vertical blinds usually face a problem that how to clean mould from vertical blinds at home and probing for an easy and cost-effective way to remove that dirty mould.
Here are some easy remedies that clean mould from vertical blinds at home. You can use the natural ingredients easily available at home such as washing detergent, tea tree oil, lemon, bleach, white vinegar and clove oil for cleaning the mould on your favorite vertical blinds. Let's see how to use this home remedies for more effective results. This will definitely work for you and keep your blinds at the top-notch condition.
Why Does Mould Develop on Vertical Blinds?
Vertical blinds are the perfect solution for your covering wide windows or sliding glass door that enhances your interior to the next level. It is also the most effective alternative to prevent the solar heat to enter into the room.
Mould on the vertical blind is a common problem for almost every homeowner. It is an unavoidable and persistent issue, even you are so much taking care of your bilnds.
There are a lot of reasons for developing this mould. But the moisture is the main reason behind this.
When outside heat from sun gets contacted with moist or cool environment present around the house, it becomes a perfect breeding ground for mould.
While sunlight comes into contact with cool glass window, the condensation arises inside the window. The blinds which cover your window soaks up all the moisture. So, higher the humidity in the house, higher the possibility of mould on your blinds.
How to Take Down Vertical Blinds for Cleaning?
Vertical blinds are not installed in one piece, so taking down is a little complex process. So, let's go through the steps:
Pull the blinds at the left or right direction to cover the window or door.
Rotate the wand to open the vanes.
Take away the valance from the headrail of blind. Detach the front part of the valance from clips fixed to the headrail. This makes the whole valance free.
There are clips attached to the headrail on the upper side of vanes. Insert the plastic card like gift card through the clip and the vane to detach it. Release each vane using this process.
Release the flange on hanging brackets located behind headrail. Push the flange to the direction of a window and take away the headrail from the mounting brackets.
There are screws which fixed to the ceiling for holding the brackets. Remove these mounting brackets properly.
Watch out the following video that shows how to remove vertical blinds easily. Check it out.
Regular Maintenance to Clean Mould from Vertical Blinds
Loosen dirt with the duster
To clean your vertical blinds you need to loosen the dust at first. For this, open the window and loose the dirt with a thick duster or feather duster. Wear a dust mask for safety from an airborne mould.
Vacuum the blinds
There are some edges, corners and hard to reach areas where mould likely to develop on blinds. Use a vacuum cleaner to clean mould developed in these areas. Use a vacuum cleaner with upholstery attachment to reach these areas to clean out the mould.
How to Clean mould from Vertical Blinds at Home?
Can You Wash Vertical Blinds in the Washing Machine?
There are several vertical blinds are suitable to wash in washing machine. Before keeping them in the washing machine, check out the label on blinds for washing instructions. Make sure they are washable in washing machine.
When you use the washing machine to clean the fabric vertical blinds, it may lead to snagging and fraying easily. So, for preventing this, you need to roll the blind and keep in the empty pillow case before placing in the washing machine to clean.
For cleaning the vertical blinds, set the water temperature below 30 degrees. Use gentle wash cleaning cycle which we usually used for woolens and delicate clothes. It is better thought to exclude the final spin cycle to clean out the blinds.
Check Out For How To Clean A Washing Machine?
How to Clean Mould from Vertical Blind Manually?
It is always better to clean the blinds manually than clean in the washing machine as it prevents the damage and blinds will last for longer time.
You can clean out the mould from the vertical blind in three different ways:
Make a solution of warm water and cleaning detergent. Wipe down every slot separately with a cloth soaked in the solution.
You can also take out the whole blind and wipe down outer area.
Fill the bath with the solution of detergent and warm water. Soak the blind for few hours in a bath filled with solution.
How To Clean Mould from a Vertical Blinds at Home?- 6 Proven Remedies
Water and detergent solution
Make a solution of water, detergent, and all-purpose cleaner. Soak the blinds in this solution. With using the sponge and solution clean the moldy areas. You can also use a toothbrush to clean difficult to reach nooks and crannies.
Lemon juice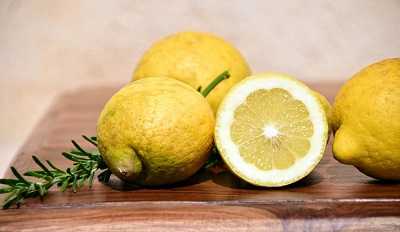 Lemon is the most effective and easy way to remove mould due to its high acid concentration property. It is a cheap and natural home remedy to kill the mould from your vertical blind.
You can get rid of mould from blinds with following easy steps:
Take out your vertical blinds and keep it outdoors.
Fill the spray bottle with lemon juice.
Spray the lemon juice on mould developed area. Soak it for 1-hour. Lemon juice and sunlight work fast and effectively to kill the mould.
After 1-hour wipe down the blinds with the wet cloth. Make it dry thoroughly in direct sunlight.
White Vinegar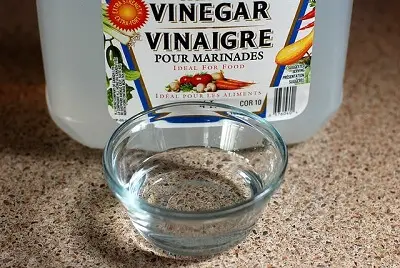 White vinegar is safe natural cleaner you probably use for cleaning the things around your home. There is no exception for your gorgeous vertical blinds. You can clean mould and odor from your fabric or vinyl vertical blinds easily with white vinegar.
If you don't want mess during cleaning, take out the vertical blinds from hanging instruments. Place them outdoors.
Fill the spray bottle with undiluted white vinegar.
Spray the vinegar on moldy areas and let it sit for at least 1-hour.
Take a clean sponge and scrub that area thoroughly.
Rinse the blinds and make it dry completely.
Check Out For How To Clean A Coffee Maker Without Vinegar?
Tea tree oil
Tea tree oil is a natural essential oil produced from melaleuca tree. It is a natural and environmentally friendly way to get rid of mould. This natural fungicide is tremendously effective, though you are using in small quantity. If you clean the mould from tea tree oil, the effect will last longer than using vinegar and lemon.
You can use tea tree oil effectively with following way:
Make a solution of 2 tablespoons of tea tree oil and 2 cups of water. Fill the solution in a spray bottle.
Spray the one to two squirts solution on mould of blinds.
Let allow it to dry on blinds.
Wipe down by using a clean cloth.
As tea tree oil has strong smell, lasts for few days after cleaning. So, use the blind with an open window for next few days.
You can get tea tree oil for cleaning by clicking here.
Bleach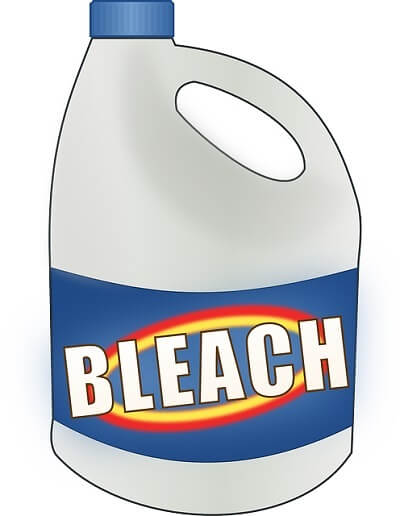 Bleach has a power to kill every species of the mould. It also sanitizes the surface as well as prevents future mould growth. There is a key element called 'Sodium Hypochlorite' in bleach which is also found in other cleaning products that kills the mould.
The success degree of bleach depends on the surface you used to clean out the mould. You can clean the plastic or metal blinds with using bleach solution effectively.
Following are the easy steps to kill the mould on metal or plastic blinds using bleach.
Wear hand gloves before handling bleach.
Make a solution of bleach and water with 1:4 ratio.
Fill in the spray bottle and spray on mould affected areas.
Let it sit for a few hours.
Wipe down with a damp cloth and dry it completely.
Clove Oil
Clove oil has antifungal properties that prevent mould attack. In fact, it kills the spores wholly rather than just hiding them. But safety comes always first. Though Clove oil is natural oil it may allergic for some people or cause skin irritation. So, wear gloves and mask while cleaning mould with the clove oil. Keep it away from children for safety purpose.
Use clove oil with following ways to get rid of mould from vertical blinds:
Mix the ¼ tablespoon of clove oil with 1-liter water. Pour the solution the spray bottle.
Spray the solution on blinds.
Leave it for 24 hours. Don't leave the solution longer as it may cause staining of blinds.
Scrub the moldy areas with a stiff brush.
Wipe off with a damp cloth and make it dry.
How to Vertical Blinds Make Dry Thoroughly After Cleaning?
If you want to dry out your vertical blinds thoroughly after cleaning, air drying is a safe method. For air drying, it is advisable to lay down your blinds flat. But don't use tumble dry method as it may ruin the blind.
How to Stop Mould on Vertical Blinds?
You can't stop completely the mould on vertical blinds. But you can reduce the possible chances of developing mould.
To minimize the mould on blinds, keep moisture level low in your home. For this, you can use the lids on pans while cooking, don't bring wet shoes or clothes in the home, don't hang your wet clothes for drying inside the home, or you need to check for any plumbing leakage.
You can also maintain the temperature inside the home to prevent moisture. By using a dehumidifier, you can maintain the temperature and avoid the humidity inside the home.
Bonus Tips
After finishing the cleaning process, make your blinds completely dry. If your blinds left wet, it will surely become breeding ground for mould and your cleaning task gets tougher next time.
Don't use hot water as it may shrink the blind fabric.
Conclusion
how to clean mould from vertical blinds at home? is your persistent problem you are facing, then these remedies would work better for you. The things you need to clean out the mould is easily available at home. So, you don't need to rush anywhere to collect the stuff.
So, try out these natural home remedies to make your blinds mould free. Hope that would help you and make cleaning breeze. Let me know, in comments, which remedy works best for you.