( Disclaimer : We hope you love the products we recommend! We just want to inform you in advance that, if you buy anything that we recommend here, then we may get some share or compensation from the links on this page.)
Do you have Hamilton Beach Coffee Maker and don't know exactly how to use Hamilton Beach Flexbrew Single Serve coffee maker in a precise way? Then you came to right place.
Here I go through you how to use this Hamilton Beach coffee maker which guide you to make your perfect cup of joe without any mistake.
I have been making my delicious consistent cup of coffee with Hamilton Beach Flexbrew Single Serve Coffee Maker for years.
Personally, I like the Hamilton Beach Flexbrew single-serve coffee maker because it is a fast and easy way to make a coffee. The most interesting idea behind this coffee maker is flex brew. Making K cup coffee is the unique feature of this coffeemaker, that's why it is known as flex brew.
Let's get to know how to use this Coffee Maker?
How to Use Hamilton Beach Flexbrew Single Serve Coffee Maker?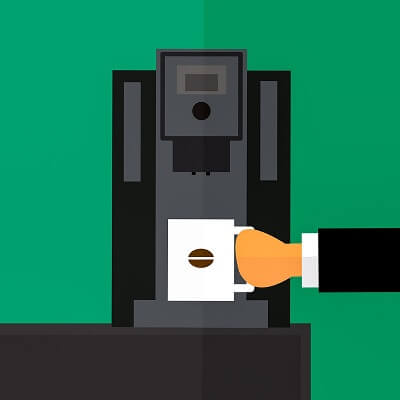 If you are a great fan of drip coffee or K cup coffee, then this Hamilton Beach flex brew coffee maker is just for you! You can make these both types of coffee in a simple way with this coffeemaker.
This Hamilton Beach coffeemaker comes with instruction booklet and quick start guide that helps you to guide on how to use this coffeemaker.
Using K cup Coffee
Step 1
The water reservoir is located on the top side of the coffeemaker. There is a flip top on the top of the machine where you can fill the water to make a coffee.
Inside the water reservoir, there are two fill lines. One is for 8 ounces' capacity and another one is max capacity.
You should be careful here when you fill up the water. You should pour the water slowly.
Fill the water tank till 8 ounces or max line as much you want. 10 oz. water is a maximum limit for K cup coffee.
Step 2
Take out the brew tray out from the coffeemaker. Now you need to add coffee in brew tray.
Inside the brew tray, there is some small metal teeth. These metal teeth are specially constructed for puncturing the K cup. It is designed to puncture the K cup on the sides.
Take your K cup and keep it in K cup adapter. Don't remove the foil of K cup. Press down the K cup. If you hear the clicking sound, that means your K cup is punctured rightly inside the brew tray.
Take the tray and push into the coffeemaker on its place. When you push the tray, it will lock inside the machine.
If you want, you also lock it again by pressing down the front handle for safety precaution. It helps for locking the tray so that it prevents from taking out the tray when actual brewing process is going on.
 Now, your coffeemaker is just ready to make your delicious coffee!
Step 3
Now, it's time to keep your coffee mug to catch your coffee. You have to keep your coffee mug on the drip tray. Here you can use either large tumbler or small coffee to collect your coffee.
But how?
Actually, the drip tray of this Hamilton Beach coffeemaker is removable as well as reversible.
If you want to use a large tumbler, you need to take out the stainless steel drip tray from the plastic tray. Flip this over and place the large tumbler into the coffeemaker. Use lower cup position to catch a coffee in a large tumbler or travel mug. Add the drip tray again into the device.
Step 4
Press the Power button located at the bottom of the device. When you press it, it blows in red and your coffeemaker starts the brewing process.
Initially, it starts to make water hot and then, of course, it brews the coffee. There is no constant hot water tank inside the machine like other single serve coffeemakers. So, when you add water into the reservoir, it takes 45 seconds to a minute to get the water hot before start brewing process.
And your delicious coffee is ready within 3 minutes!
If you measure the temperature of coffee, it is 180 degrees which is again outstanding part of this coffeemaker. This is the notable part where the majority of the coffeemaker fails.
Step 5
The coffeemaker turns off automatically when the brewing process is finished. When the brewing press is finished, unlock the brew basket and detach it from a machine.
Take out the single-serve pack holder and rinse it thoroughly after every use.
Note:
If you want to stop brewing in mid-cycle for any reason, press REGULAR or BOLD button. If you want to remove the water from a water reservoir in mid-cycle, press the REGULAR or BOLD button for 3 seconds.
If you brew hot cocoa single serve pack of coffee, after finishing the brewing process, run the brew cycle with using only water without a single-serve pack. It helps for preventing the clogging issue of piercing needle.
I found this coffeemaker little messy. Every time I take out the brew basket after completing the brewing cycle, some coffee falls down and creates little mess which is the little downside of this coffeemaker that I found.
For this, I always use a drip tray setting which makes my coffee mug closer to the brew basket. So that its avoid mess to some extent.
Check Out For Best Turkish Coffee Grinder
 Using Ground Coffee
Open the lid of a water tank. Fill the water reservoir as per desired water limit. Close the lid until you hear clicking sound and lock it.
Before adding ground coffee remove the single serve cup if you added previously.
The brew basket can hold up to 10gm. (3 tablespoons) Of ground coffee. Don't use coffee more than this. Fill ground coffee below max line to avoid overflow.
Then attach the brew basket into the coffeemaker. Then lock it precisely for brewing.
Press the power button located at bottom of the machine.
As I said above, the coffeemaker takes 45 seconds to a minute to get the water hot. Then, coffee begins to brew.
The coffee maker shuts down itself after brewing cycle completed.
Check Out For Best Coffee Grinder For Cold Brew
Caution 
Don't fill the water reservoir above 10oz.
During the brewing process, don't open the lid.
Use only cold water, don't use hot water in water tank.
Don't reheat coffee in a coffeemaker.
Don't use creamer in a water reservoir.
There is piercing needle underside of the lid which is sharp. So, be careful whenever you handle the lid.
This appliance should not use by children. If so, close supervision is required.
Don't place plug, cord or coffeemaker into the water.
Troubleshooting Common Problems
What if coffee tastes bad?
If you make a coffee in this Hamilton Beach Flexbrew Single Serve Coffee Maker and it tastes bad, then probably it is an indication that your coffeemaker needs cleaning. You should also check out your coffee or water quality which you are using to make a coffee.
Grinding coffee too much coarse or fine is another one cause for the bad taste of coffee. So, check out for grind setting of your coffee grinder. Set the coffee grinder at automatic drip grind setting.
Why the brewing process of coffeemaker not get started? / Why does not dispense the coffee?
There is a piercing needle under the lid of a coffeemaker reservoir. It may get clogged. That is why the brewing process not gets started.
To unclog the piercing needle, you should remove the coffee ground build up.
For this, turn off the device and unplug it. Insert the end of bent paper into the eye and upper side into piercing needle. Clean it thoroughly.
Why does water leak on the counter under the coffeemaker?
If you fill the water tank more than its maximum limit, there is a possibility of leaking the extra water. So, don't add the water more than 14 oz.
You should also check for a cup that you are using for collecting the coffee. Some cups are not capable to pour the coffee cleanly. They may drip the water down the side of the cup or on a counter top.
How to remove remaining water from the reservoir?
If you use the water more than its maximum limit, some water left in the reservoir.
For removing the remaining water in the reservoir, keep the mug on the drip tray. Take out the single-serve pack and replace the brew basket.
Repeat the cycle of brewing. Press the regular button for 3 seconds to remove leftover water.
Watch out the following quick video that shows how to use this Hamilton Beach coffee maker. So that you can make your perfect coffee without any mistakes.
Wrap up
So, this is all about How to Use Hamilton Beach Flexbrew Single Serve Coffee Maker?
If you use and clean your coffeemaker in the right way, you can extend its lifespan and may able to use for longer.
So, use your coffeemaker precisely and enjoy your perfect cup of joe without sacrificing any convenience.