( Disclaimer: As an Amazon Associate, we earn commissions from qualifying purchases at NO additional cost to the customer.)                                          
Do you like washing your dishes yourself?
If you do prefer to give your own touch to your stainless-steel dishes, pots and pans, you'll definitely know the importance of having a good stainless-steel dish rack that can accommodate these utensils when you're done washing them.
You have to make the correct choice while selecting a rack that will hold lots of dishes and hold them to help dry up quickly and securely.
Because if you don't, you're in for a lot of broken plates and mess on the counter top.
It matters a lot because you will be using them every single day. So, here is a helpful guide for buying the best largest stainless-steel dish racks for your every day kitchen needs.
Making the best choice
Advantages of Using Large Stainless-steel Dish Racks?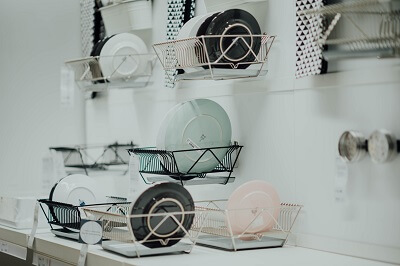 When you're shopping for a dish rack, you should especially pay attention to the dimensional details and make a selection that best suits your kitchen space.
You don't want to end up with an enormity that engulfs all the counter space. But if space isn't an issue for you, it is highly recommended that you buy a relatively larger model.
Dish racks are very helpful mainly because they allow the circulating air to move between your pots, dishes, and pans to allow them to dry on their own.
This means that they need to be large enough to not only store them but also leave enough space for drying air.
How to Prevent Stainless Steel Dish Rack from Rusting?
Whenever you buy a dish rack, make sure that the metal frames are made up of rust-free materials like aluminum, brushed stainless steel or chromium plating.
Dish racks take care of your steel utensils but it surely needs a little of its own care and maintenance too.
The best method for preventing rust from forming on your dish rack is to wash it regularly and then ensuring that it is completely dried after use.
Rust usually appears when you leave a metal exposed to water, so the faster you can work to dry it, the smaller will be the chance for rust to form.
Washing with vinegar is also a great idea for preventing metal corrosion.
How to Clean A Stainless-Steel Dish Rack?
Cleaning a dish rack is just like cleaning one of your steel utensils. Warm water, a scrub or toothbrush, and dish soap are all you need to get going.
You should always disassemble the rack for thorough cleaning. Scrub using a toothbrush and warm water and add a little dish soap to remove the stains.
Make sure you clean the whole surface instead of just focusing on the stains.
Don't forget to rinse all the soap water off and then allow it to completely dry off. You can use an absorbent cloth or rag to completely rid it of any moisture.
Do you want to know which is better cleaner- Bon ami vs Barkeepers friend? Then Check out here.
What to Look for Before Buying the Largest Stainless-Steel Dish Rack?
Space, size, and capacity
Before buying a dish rack, be completely sure about the space that you want to accommodate it in and whether it is suitable for your kitchen requirements.
A bigger dish rack doesn't necessarily mean that it has more capacity. You should choose a product that has a maximum capacity and multiple tiers.
Material
You should be aware of the material that your rack is made up of. Steel and plastic are two of the most commonly used ones.
Plastic is immune to rusting but is prone to get cracked and damaged easily.
Stainless steel can be a much better choice for you specially if plated with chromium or simple food-grade stainless steel.
Simple or customizable options
Your rack can be a simple dish rack if you're requiring simplicity and reliability in your kitchen or it can be a little sophisticated with extra attachable parts that make its design more functional.
The sophisticated designs give you more room to customize the rack according to your own needs.
Collected water drainage from the rack
Check if the rack you're buying has to be put inside the sink or has a mechanism to drain the dripping water into the sink.
Top 5 Largest Stainless-Steel Dish Rack
Simplehuman Kitchen Steel Frame Dish Rack With Swivel Spout
 Simplehuman Dish Drying Rack has extremely space-saving designs so if you're looking for a product to fit in inside your kitchen, Superhuman is a great choice.
Its swivel spout pivots are integrated with the rack and help drain and drive water directly into the sink without making any puddles on your kitchen counter.
This rack's material is stainless steel so you don't have to worry about it getting rusty or discolored at all.
In addition to stainless steel coatings, the Simplehuman Dish Rack comes with a hydrophilic coating on the outside surfaces that makes water to easily slip down the surface and extra compartment space.
Click Here for Latest Reviews and Price of Simplehuman Kitchen Steel Frame Dish Rack With Swivel Spout
Pros
Prevents dishes from scratches and chips
Fast-drying tray
Finger-Print free finishing
A 5-year warranty
Cons
Unsuitable with bigger sinks
Over Sink Dish Drying Rack, iBesi 2-Tier Stainless Steel Stable Dish Drainer Shelf Rust Free Multifunctional Storage Organizer
 Did you think about getting yourself a dish rack that sits over the sink?
iBesi 2-Tier is one of those kitchen products that can help you save lots of space on the counter. This model will help you organize your kitchen ware in a very simple but vibrant manner.
It will allow you to utilize that empty space above the sink quite efficiently and at a height that will surely help you improve cleaning and drying.
It is robustly built which makes it safe, is sturdier and an ideal space holder. The storage compartments provide convenience because they are detachable.
Click Here for Latest Reviews and Price of iBesi 2-Tier Stainless Steel Stable Dish Drainer
Pros
Anti-skid rubber for a firm grasp
2-Tier space saving
High-grade corrosion-resistant stainless steel
Cons
Soaks water from vessel when cleaned
Surpahs Over the Sink Multipurpose Roll-Up Dish Drying Rack
 Suprahs Over the sink Rack is an extremely convenient and ideal dish holder for air-drying any of your hand-washed kitchenware and utensil.
It has a sturdy build and the stainless-steel metal used in it is coated with silicone to resist corrosion over time so you don't have to worry about wet dishes causing rust on it.
Apart from that, the Suprahs Over the Sink Roll-Up dish rack is heat resistant up to around 400°F and is totally BPA-free.
Its foldable compartments make it easy for you to wash thoroughly and pack it in a compact manner for storage.
Click Here for Latest Reviews and Price of Surpahs Over the Sink Multipurpose Roll-Up Dish Drying Rack
Pros
Good for glassware
Color schemes offered to match all trendy kitchen paint themes
Very easy to wash the rack
Lifetime warranty
Cons
Loose mat causes bottles and wine glasses to not stay upright
KitchenAid KNS896BXGRA Full Size Dish Rack
 If you're looking for the best options to keep your kitchen counter organized and dry all the time then you don't have to any further than the KitchenAid KNS896BXGRA.
Its large dish rack is enough to accommodate full-size pots pans and all sorts of dinner and glassware.
Its wires are coated with satin to prevent rust on both the rack and the steelware giving it a durable lifespan.
The inbuilt handle makes it very portable and easy to move. Its self-draining board and an excellent pitch make draining water more accessible.
Click Here for Latest Reviews and Price of KitchenAid KNS896BXGRA Full Size Dish Rack
Pros
Great for holding larger dishes and kitchenware
Very portable
Comes with a removable flatware caddy
Cons
Relatively less corrosion-resistant than other competitors
Over the Sink Dish Drying Rack, iSPECLE Large Premium 201 Stainless Steel Dish Rack with Utensil Holder Hooks for Kitchen Counter
 iSPECLE dish rack is your go-to choice if you're short on the space on the counter because it is an extremely compact and robust dish drying rack.
It sits perfectly over any sink and will provide enhanced stability even when fully loaded with your kitchenware.
It's enhanced anti-skidding rubber feet keep it steady in the slippery sink environment and will give you no cause for concern.
The material it is made of is 201 stainless steel that can go a long way if taken care of properly.
Click Here for Latest Reviews and Price of iSPECLE Large Premium 201 Stainless Steel Dish Rack
Pros
Ideal for small spaces
Very easy to assemble
12-month warranty
Cons
A little too much on the expensive side
Takeaways
Having a dish drying rack is extremely necessary if you care about keeping your utensils safe, healthy and free from bacteria.
It is a very handy organizer for your kitchen that can help you hold your dishes in a very organized manner.
The thing that matters the most when using one is its ability to resist corrosion as dish racks are almost always in a moist environment.
Keeping that into account and the ability to hold more dishes of different sizes, we recommend you to go for the iBesi 2-Tier dish rack.
It has relatively more holding capacity, takes up less space and its metal is very resistant to rust and moisture retention.