( Disclaimer : We hope you love the products we recommend! We just want to inform you in advance that, if you buy anything that we recommend here, then we may get some share or compensation from the links on this page.)
Juicing and smoothies both are great choices to incorporate more fruits and veggies into your daily diet easily. They have their own nutritional benefits. But smoothies are my favourite instead of juices as juice leaves behind the pulp that contains fiber and nutrients which you fling away. So you lose the most of the nutrients contained in whole fruits and veggies. Smoothies are a better option because it preserves fiber and you get benefitted from the nutrition of whole fruits and vegetables.
If you want to make a good nutritious smoothie, you should get hold of a decent blender. You should pick the blender with enough power and functions to deal with harder ingredients like fibrous veggies, nuts, and seeds etc. Choosing the right blender for smoothies which is really bang for your bucks is quite a tricky task. So here we come up with the best blender for smoothies under $ 100 with complete buying guide which helps you to pick best one.
Blender Vs Mixer Grinder
Blender is a device which contains blade at the bottom of the jar. They are normally chopping the ingredients and dissolve solid stuff into liquid. There are various uses of blenders. It is used to make smoothies, soup, purees and crushing ice etc.
Whereas mixer grinder is a versatile device which uses paddles and whisks to mix your ingredients. They are used for recurring tasks like whisking, stirring, beating etc. You can make a dough, beat eggs, and whip creams with the help of mixer grinder.
How To Choose Best Blender For Smoothies
1.High-speed powerful motor
It is advisable to buy a blender with the powerful high-speed motor. It allows you to blend hard ingredients like ice, frozen fruits, nuts etc required to make your delicious smoothies. The power of motor should be minimum 350 watts to blend these stuff easily. It reduces your prep time too.
2.Different Speed settings
There should be minimum 3 settings to catch smoothies with desired texture. Some blenders have 'Pulse' setting also, but it is not mandatory. Some people use this function for pre-cut the ingredients.
3.Quick and ease in cleaning
The cleaning of the blender is most tiresome task for most of the folks and it also dissuades you from making fresh smoothies daily. So opt for the model which is easy and quick to clean. The blender with touch controls instead of knobs is easy to maintain. The dishwasher safe parts of the blender are easy to clean.
4.Size and material of pitcher
Choose the pitcher size accordingly the number of persons you serve. Some pitchers are ideal for the whole family while some others are single serve and two serve also. The recommended size is 40 oz. which is the most convenient size.
The pitcher comes in glass, plastic or stainless steel material. The plastic pitcher is preferred by most of the folks due to light in weight and easy handling. But it can stain and scratch easily and absorb odour. Glass jars have more weight but they are breakable, do not scratch or absorb odour easily. Stainless steel is less popular as you cannot see the ingredients while blending.
5.Heavy base
The base of the blender should be wide and heavy to maintain stability while operating. When you are blending hard stuff or with high speed, the blender vibrates a little bit. So it needs a solid base for the stable operation.
Here is the video about short buying guide of a blender.
How Does A Blender Work?
When you drop some ingredients in a blender to blend and press a start button, the motor which is connected to electrical power is activated. The shaft will spin at high RPM. When the shaft spins, the blades also spin at equal speed. The speed creates a vortex inside the pitcher. The vortex creates a vacuum at the jar center that pulls the ingredients at the middle. So it is chopped and re- circulated into liquid. When the motor pulses, it will keep hard ingredients from building up around the blades. The pulse and different speed results in consistent texture of your drink.
Check out for Best Masticating Juicer of 2107 under $200
Best Way To Clean A Blender
With following some easy steps you can clean your blender easily.
Take out the blender from base. Unscrew the bottom element. Remove the lid, gasket seal and blade.
Wash the pitcher with warm water and sponge. Rinse and make it dry thoroughly. You can also wash it on top rack of dishwasher.
Wash the other parts like gasket seal, blade, and locking ring with warm soapy water. Be careful while cleaning the blades as it has sharp edges. Rinse and make it dry.
If you notice some dried stuck in blender, mix the baking soda and water in 1:1 ratio. Assemble a blender and run it. Then take apart the parts and wash with above steps mentioned.
Wipe up the motor of the blender with damp cloth. It is not recommended at all to immerse it in water or wash in dishwasher.
Reassemble the blender and store it precisely.
Here are some tips to clean your blender fast.
Top 10 Best Blender For Smoothies Under $100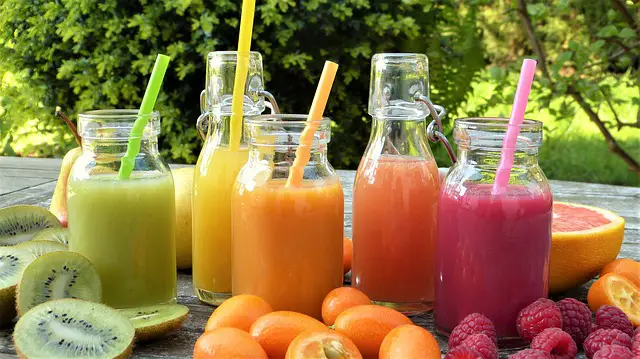 1.Ninja Professional Blender (BL610)
Ninja professional blender BL610 is comes in sleek design which looks stylish and modern in your kitchen. It gives professional performance like other professional blenders with its 1000 watts power. Its total crushing technology enables you to crush ice, veggies and fruits easily to make your healthy smoothies.
When lid is not precisely placed at the time of operating, the light on blender blinks to bring to your notice. It refrain blades from spinning; if lid is not secure. So Ninja takes care of your safety too. It is featured with multiple speed setting. Speed 1 is for processing and mixing, speed 2 is suitable for crushing ice and milkshakes and speed 3 is for smoothies, whole fruits and veggies. It has pulse button to control chopping and processing. It comes with electronic control panel, cord storage and having 1 year warranty.This is one of the Best blender for smoothies under $100.
Pros
It comes with the extra large pitcher having capacity of 72 ounce which is suitable for whole family.
It is easy to clean blender as the parts are dishwasher safe.
The plastic material used for blender is totally BPA-Free and the metallic material ensures durability.
It is a versatile blender as it works good for making smoothies, shakes, nut milk, nut butter, puree, soup, preparing baby food, ice crushing, chopping food, dough, grinding job also.
Cons
The power cord of the blender is too short in length.
It is a loud blender as it makes loud noise around 100 decibels when processing soft ingredients. For hard ingredients it generates more noise.
Click Here for Latest Reviews and Price of Ninja Professional Blender (BL610)
Watch out the following video that shows how to operate this blender for making healthy smoothie.
2. Oster Reverse Crush Counterforms Blender
 Oster Reverse Crush Counterforms Blender is one of the versatile, durable as well as affordable blenders by Oster. It is packed with 1000 watts motor power with an effective capacity of 600 watts. This blender comes with sleeker control design with 7 pre- programmed settings from low to high which makes it very reliable to use. It has stainless steel 6 point blade to handle soft as well as hard produce efficiently.
Pros
It is equipped with dual direction blade technology that helps to reduce jam ups.
Due to compact size, great for small kitchen.
It comes with pitcher made with glass that ensures no any chemical contact with your drink and can handle hot recipes very well.
It has all metal drive assembly having a 10 year warranty.
The parts are dishwasher safe which makes ease in cleaning.
Cons
Base may vibrate while operating at high speed, needs to be held down.
For some users Food chop setting is not found very efficient due to shape of the jar.
Click Here for Latest Reviews and Price of Oster Reverse Crush Counterforms Blender
3. Nutribullet 12 Piece Hi-Speed Blender
 Nutribullet 12 Piece Hi- Speed blender is comes in unique blade design that pulverizes fruits, veggies, superfoods into luscious smooth texture. Its power, blade design and cyclonic action aids to extract all possible nutrients from your food to promote healthy lifestyle. It is featured with exclusive extractor technology with 600 watt power motor. The motor operates at 20,000 RPM that smoothly pulverize the stems, seeds and skins. It comes with easy to use containers with resealable lids.
Pros
It is a compact blender and takes up small space on your countertop.
Nutribullet blender is portable and safe for kids.
It is very easy to use blender. You just have to plug the blender, place the tall cup on the power base and press it. No any complicated manual required.
This device is manufactured in the compliance with US and Canadian Electrical standard.
Cons
Some users found it difficult to clean the blades of the blender. 
Click Here for Latest Reviews and Price of Nutribullet 12 Piece Hi- Speed blender
4. Oster Pro 1200 Blender
Oster Pro 1200 Blender equipped with smart setting technology which makes it easy and simple to use. It has 1200 watts motor power and 900 watts for crushing ice. This blender is really convenient to make to go cup smoothie. You can directly make smoothie in your personal size smoothie cup, lock it with lid and can drink it wherever you go. It is featured with pre-programmed technology especially for smoothies and milkshakes. It is equipped with 7 speed settings that include 3 settings for most blender creations.
Pros
It comes in sleek and stylish design having compact footprint which makes easy to store.
It has 5" wide 6 blade technology allows you to make smoothies very fast.
All metal drive system allows you to blend up to 10,000 smoothies.
Cons
It is little noisy blender.
The smoothie cup is made of plastic and it is not mentioned whether it is BPA free or not.
Click Here for Latest Reviews and Price of Oster Pro 1200 Blender  
Check out for Top 5 Best Turkish Coffee Grinder 2017 Review
5. KitchenAid KSB1575ER 5-Speed Diamond Blender
The KitchenAid KSB1575ER blender is known as a diamond blender for its diamond blending system. It makes your soups and smoothies silkier with its intelli-speed settings and powerful motor. It is comes with 5 speeds setting i.e. for stir, chop, mix, puree and liquify respectively. Pulse button works well with these 5 speeds. It has touch control panel with LED lighted buttons. It is equipped with sharp blades that made of stainless steel.
Pros
It has stable and die-cast metal base with four non-slip feet to avoid skidding of base while operating.
The motor has 0.9 HP but it is powerful and saves energy consumption too.
The pitcher is made with BPA free plastic and it is dishwasher safe.
Cons
The foot print is small but it is tall blender, unable to fit under the most cabinet.
It vibrates while operating. If your hand is not on lid while operating, the lid will open and the ingredients spread out on your countertop.
Click Here for Latest Reviews and Price of KitchenAid KSB1575ER 5-Speed Diamond Blender
6. Nutri Ninja Auto iQ(BL482)
 Nutri Ninja Auto iQ BL482 blender is especially made for busy folks to make on the go smoothies without any hassle. The Auto iQ feature and intelligent blending programme helps you to getting things done without any guesswork. It comes with jumbo 32 oz, regular 24 oz and small 18 oz nutri ninja cups which has sip and seal lids to avoid the mess. It has 1000 watts motor power with auto shut off feature. The blender automatically shuts when motor gets too hot. It has 2 manual settings to control your favourite recipes.
Pros
The parts are BPA free and dishwasher safe.
It comes with Ninjas smooth boost technology that finds the degree to blend the ingredients to get just right drink consistently.
The Auto iQ feature and intelligent blending programme helps you to getting things done without any guesswork.
This compact blender is easy to use, clean and store.
Cons
The base will move when it is overloaded.
It generates loud noise while operating.
Click Here for Latest Reviews and Price of Nutri Ninja Auto iQ(BL482)
7. Nutri Ninja Pro BL456
If you are looking for single serve smoothie blender that bang for bucks; your search might end here. It is small and compact blender but powerful with 900 watt motor. This Nutri Ninja blender operates at speed up to 21000 RPM. It works well for making on the go smoothies and protein shakes and comes with powerful nutrient and vitamin extraction system to make healthy nutrient rich drinks. It is featured with Ninja pro extractor blades to crush ice, seeds, stems, skin in velvety consistency.
Pros
Its compact design is easy to store, use and assemble on daily basis. It is great travel companion.
It comes with large capacity jars.
The parts are BPA free and dishwasher safe.
Cons
It is a noisy blender.
It does not process hot ingredients.
8. Breville BBL560XL Hemisphere Smooth Blender
Breville brand is popular for producing quality products all over the world. Breville BBL560XL Hemisphere Smooth Blender is no any exception. It is featured with unique blade system having 600 watt motor power. This blender comes with 5 speed settings with touch control system. It is all in one appliance includes 8 task controls to perform multiple tasks. It comes with titan pitcher that is BPA free. The capacity of jar is one and half litre which is convenient for whole family.
Pros
It has surgical grade stainless steel blades can be removed for easy and fast cleaning as well as easy to assemble too.
The parts are dishwasher safe so it is easy to clean.
This blender is multipurpose appliance as you can make smoothies, milkshakes, ice cream, bread dough, margaritas sauces, crushing ice and many more.
It is compact and lightweight blender; easy to store on your countertop.
It has patented Breville lid which enables you lift the lid easily to avoid spills.
Cons
There is difficulty in blending leafy green vegetables.
Check out for 10 Best Juicers For Wheatgrass Review 2017
9.Hamilton Beach 56221 Smoothie Smart Blender
 As name indicates Hamilton Beach blender is perfect for healthy nutrient rich smoothie. It has 700 watt peak motor can blend up to 8000 frozen drinks. This blender is featured with ice sabre blades for efficient ice crushing. It comes with 5 blending function such as smoothie, ice crush, high, med, low and pulse. The carafe and housing are made from plastic. It comes with heat resistant glass jar with 40 oz capacity; ideal for small family. This blender has no mess pouring spout which is uniquely designed. It has die cast metal base which looks sturdy.
Pros
It has 45 seconds blending cycles with auto shut function.
It is equipped with patented wave action system that ensures perfect desired results without stirring every time.
The jar, blades and lid are dishwasher safe and smooth touch pad makes cleaning easy.
Cons
Some users found it difficult to blend frozen fruits with this blender. But you can make it easy just by adding more water.
The slow speed is comparatively fast.
Click Here for Latest Reviews and Price of Hamilton Beach 56221 Smoothie Smart Blender
10.Waring Pro PBB225 Food And Beverage Maker
Waring Pro PBB225 blender is commercial grade blender with stylish waterfall base. It comes with heavy duty 550 watt motor power to render professional performance. It has large 40 oz cloverleaf jug. This is 15 inch tall blender can easily stored in your cabinet. This classic style blender is very simple to operate as it has only 2 speed setting. It comes with decent features like easy to read measurement and pulse settings.
Pros
The glass jar and lid is dishwasher safe.
The magnificent waterfall style blender comes in many colours choices which look great in your kitchen.
The heavy duty motor comes with 5 year guarantee.
The blender is super easy to clean.
It comes with glass jar which does not comprise any toxicity in your food like plastic does.
Cons
The electric motor makes noise at high speed.
The jug vibrates a lot at fast speed.
Click Here for Latest Reviews and Price of Waring Pro PBB225 blender 
Wrap up
These are the top 10 blenders for smoothies under $100 with complete buying guide. Our buying guide helps you to pick the best budget blender for smoothies. They are quality blenders for bang on your bucks. Choose the blender which suits to your lifestyle and needs. If you are real smoothie lover, you will absolutely going to enjoy your healthy, delicious smoothie by choosing any of the above blenders.