( Disclaimer: As an Amazon Associate, we earn commissions from qualifying purchases at NO additional cost to the customer.)                                          
Back in the days or even now, you may have seen most recipes calling for "Accent Seasoning."
Many people have it on their table and use it like salt.
It can be found in a number of stores in the USA.
Many people residing outside the U.S. have difficulty locating it; however, accent seasoning is a brand name that has msg as its main ingredient.
To know more about Accent Seasoning and Cooking substitute for Accent read further.
What is Accent Seasoning?
Accent Seasoning, also known as MSG (Monosodium Glutamate), is commonly used seasoning in Asian cooking.
It is traded as a fine white crystal material, resembling salt or sugar in appearance.
This has no distinct taste of its own, so it's not fully known how it adds flavor to other foods.
Many scientists agree that MSG activates glutamate receptors in the human tongue to enhance meat-like tastes.
Does Accent Seasoning Have Msg?
MSG stands for Monosodium glutamate, and accent seasoning does have monosodium glutamate as one of its main ingredients.
Below are the names of ingredients added in Accent's seasoning;
Monosodium Glutamate
Salt
Chili Pepper
Garlic Extractives
Onion Extractives
Paprika Extractives(color)
Spice (Cumin, Oregano)
Tricalcium Phosphate (As Anticaking Agent)
Yellow Lake (No.5 and 6)
MSG also goes by the following mentioned and many other synonymous names as well.
MSG monohydrate, monohydrate, monosodium salt, monosodium glutamate, monosodium glutamate monohydrate, monosodium L-glutamate monohydrate, sodium glutamate monohydrate, L-Glutamic acid, and UNII-W81N5U6R6U.
Click here for best pans for frying potatoes
Uses of Accent Seasoning
Monosodium glutamate (MSG) is used in a number of foods prepared at home, in restaurants, and by food processors as a flavor enhancer.
Monosodium glutamate (and Accent Seasoning, as it is monosodium glutamate) has been used for a very long time in cooking, especially Asian (even before it was isolated into a seasoning).
A lot of sources have claimed that, for years, it has also been a top-secret ingredient of many chefs.
It can be used on almost any form of meat, soups and broths, potatoes or rice, and sauces. Lots of recipes find calling for accent seasoning.
Accent vs. Salt
Salt is a sodium-and chlorine ion complex.
Some salt exists naturally in foods, but much of the dietary salt ingested comes from manufactured foods.
Accent seasoning's basic ingredient is monosodium glutamate, which is a food additive used to enhance flavor.
It is the sodium salt of a nonessential amino acid called L-glutamate.
MSG comprise of about one-third the sodium of table salt.
People use accent seasoning as an alternative to salt as it contains 60 percent less sodium than salt.
Its flavor is not as same as salt, but it can enrich foods in a similar way.
Accent Seasoning Good or Bad?
For some people, accent seasoning could be fine, but for others, especially when used in large quantities, it can trigger some reactions in the body.
The common (but not limited to) side effects of MSG are:
Dizziness
Flushing or excessive sweating
Headaches
Intense thirst
Lethargy or sleepiness
Nausea
Numbness
Rapid or irregular heartbeat
Ringing ears
Skin rash
Tingling in the mouth
According to FDA, a large quantity is anything exceeding 3 grams (than a teaspoonful) of MSG.
This is the recommended amount for seasoning up to 5 portions of fried rice, or about one pound of meat.
Check out our top picks of best pan for searing scallops
What is a Substitute For Accent Seasoning?
Depending upon the recipe, you can use things like fish sauce, lemon juice, lime juice, miso paste, parmesan cheese, red wine vinegar, soy sauce, tomato paste, or Worcestershire sauce, etc.
Following are some of the alternatives that you can use instead of accent seasoning:
Herbs and spices
Different salts
Salt alternatives
Dairy concentrate
Seasoning of other brands
Monosodium Glutamate (MSG)
Bouillon powder
Bragg's Liquid Amino Acid
Herbs and Spices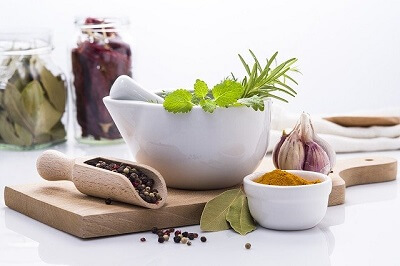 A variety of herbs such as garlic, pepper, rosemary, savory, and tarragon can add savory taste.
Spices can add warmth to any sauce.
You can use cumin and turmeric as an MSG alternative.
A variety of combinations of herbs and spices can arouse taste buds and boost food flavor, depending on the dish and season.
Accent Seasoning can also be made without the MSG.
Below is a recipe for accent seasoning that you can easily make at home.
Accent Seasoning Recipe:1
The recipe is based on two persons serving; you can increase or decrease the quantity based on your serving quantity.
13 ounces of table salt
1/2 tablespoon of bay leaf
1/2 tablespoon of sweet basil
1/2 tablespoon of thyme
1 1/2 tablespoons of black pepper
1 1/2 tablespoons of chili powder
1 1/2 tablespoons of garlic powder
1 1/2 tablespoons of onion powder
2 1/2 tablespoons of cayenne pepper
 Directions:
Mix all of the above-mentioned ingredients in a blender until it is in a uniform color.
Accent Seasoning Recipe: 2
If you are looking for a recipe for Accent seasoning without MSG, then here is the second recipe.
I know you will love this simple recipe which requires few ingredients.
You can make 1 to 1 ½ teaspoon of seasoning with the following recipe.
You can increase or decrease the ingredient quantity based on your serving quantity.
Ingredients:
1 teaspoon Salt
Dill
Garlic powder
Thyme
Onion powder
Process:
Mix all of the aforementioned ingredients in a blender till it is in a uniform color.
Different Salts
You can use different kinds of salts instead of MSG.
Sea salt is a good option.
It has the ability to enhance the flavors of foods.
It is also claimed to give a softer flavor than regular table salt available in the market.
Some other seasoned salts can also be used as cooking substitute for Accent.
Salts like Korean bamboo salt and sulfuric Indian black salt can give an exotic or smoky flavor to foods.
You can also use kosher salt.
Salt Alternatives
If you don't want to use salt as salt is high in sodium, which can increase blood pressure and cause problems in the body, then you can use other salt alternatives instead of MSG in foods.
People with heart issues or those who are on a salt-restricted diet use salt substitute.
A variety of salt alternatives are available in the market that you can use.
Potassium chloride, Calcium chloride, magnesium sulfate, and magnesium chloride can be used instead of salt.
All of them have a slightly salty-bitter taste, making them only useful in a small number of foods.
Potassium in Potassium chloride can have harmful side effects in the case of certain medications or medical conditions.
Calcium chloride can cause tongue irritations.
All of these mentioned alternatives have slightly "off" tastes at high levels.
Dairy Concentrates
A lot of people use dairy concentrates as an MSG alternative in numerous foods.
Dairy concentrates can mask off-notes in some foods and helps to release flavors in foods.
They are made by enzyme modification of butter, cream, and cheese.
Shelf-stable powders are also produced and are easy to use cooking substitutes for accent.
Seasoning of Other Brands
Tony Chachere's Cajun seasoning is a good cheap option that you can find in many grocery stores.
It works well as a general seasoning with accent flavors.
If you want a seasoning mix that does not have salt, then Trader Joe's 21 Seasoning Salute is good to go.
Penzy's also has wonderful seasoning blends.
They have salt free seasonings as well as a salad seasoning.
A lot of people also use Spike's Seasoning to enhance flavor.
All these work as good cooking substitutes for Accent.
Monosodium Glutamate (MSG)
Monosodium Glutamate is the sodium salt of the amino acid glutamic acid and it is a form of glutamate.
MSG is used as a flavor enhancer in a wide variety of recipes.
Accent seasoning contains Monosodium Glutamate as a main ingredient.
So, if you are not finding Accent seasoning in your local grocery store, you use Monosodium Glutamate (MSG) in your recipe.
You should find pure MSG which is available in Asian grocery stores. It will work great if you don't find accent seasoning.
Bouillon powder
Bouillon is available in a cube, granular, powdered, or liquid form.
It is made from MSG, dehydrated vegetables, meat stock, a small portion of fat, salt, and seasonings.
There are Vegetarian and vegan types of bouillon are also made. So, you can find non-vegetarian, vegetarian, and vegan versions of Bouillon.
If you would like to go with a store-bought non-vegetarian version of Bouillon powder, you can try this Knorr Granulated Bouillon, beef.
Beef bouillon made with natural flavors which are fat-free & cholesterol-free.
You can use beef bouillon to boost the flavor of the soup, stews, tacos, ground beef, and any beef dishes.
This Knorr Bouillon powder comes with a beef flavor.
There is also chicken flavor bouillon powder used to enhance the chicken seasoning flavor in your chicken dishes.
If you are looking for a vegetarian homemade Bouillon powder recipe, then you can try this simple vegetarian Bouillon powder recipe.
Ingredients you'll need:
Onion Powder & Garlic Powder
Poultry Seasoning (completely vegan- It's just a blend of spices dried, ground-up)
Italian Seasoning
Dried Parsley
Turmeric
Dried Thyme
Celery Salt or Celery Seed
Process:
Just add all the ingredients to a glass jar.
Cover it properly and shake until everything is combined well.
You can also whisk each ingredient together in a bowl and then transfer to an 8oz. Mason Jar.
Bragg's Liquid Amino Acids
If you are looking for a neat msg-less substitute in liquid form, then Bragg's Liquid Amino Acids works best.
You can find it at Whole Foods and health food stores.
It has a deep complex flavor that enhances the flavor of the food that you add it to. For the same purpose, accent seasoning works.
Liquid Aminos is a low-sodium alternative that is gluten free.
You can use Bragg seasoning in dishes like stir-fry with fish, tofu, chicken, or beef.
It is great in seasoning salads, soups, dressings, soups, veggies, steamed greens, rice & beans, casseroles, potatoes, gravies, marinades, and sauces.
Frequently Asked Questions
Where can you buy accent seasoning?
You can buy accent seasoning in the most local store. But in some regions, it is difficult to find easily.
So, you can buy it online on Amazon.com. It contains 60% less Sodium than Salt.
Is Accent seasoning kosher?
Yes, Accent seasoning is kosher.
Is Accent seasoning high in salt?
Accent seasoning has 60% less sodium than salt. The salt contains 194 mg. sodium per 0.5 g.
If you are concerned about your Sodium intake, it may be a good alternative to salt.
Is Accent seasoning a meat tenderizer?
No, accent seasoning is not a meat tenderizer. It is a good enhancer to enhance the flavor of the food.
Is all natural accent seasoning healthier than MSG?
Accent seasoning contains a majority of MSG with a few other seasonings and additives. So no, it's not healthier.
As per FDA MSG is safe. But consuming more MSG is linked to weight gain.
What does accent taste like?
Accent seasoning has a unique and subtle taste like umami in Japan. The Umami has a savory, broth-like taste.
Umami is known as the fifth basic taste in addition to salty, sweet, sour, and bitter. Accent seasoning works best for savory dishes, not sweet.  So, you can use it on all your go-to meals.
Final Thoughts
You don't find the Accent seasoning in your supermarket, then don't worry.
You can substitute it with the above different choices as per your dish.
Accent seasoning contains MSG. But if you want an MSG-free substitute, you can use some aforementioned MSG-free substitutes.
Season your dish with these Accent seasoning substitutes and spike the flavor of your food easily!
Resources:
https://www.reuters.com/article/us-msg-linked-weight-gain-idUSTRE74Q5SJ20110527
https://food52.com/hotline/23875-what-can-i-use-for-a-substitute-for-accent-contains-msg
Related Articles: